Ansys has one of the largest ratios of net income to revenue in the engineering software industry.
Ansys (NASDAQ: ANSS) ended 2014 by setting another record for both fourth quarter and full year revenue.  Revenue in the fourth quarter (ending December 31, 2014) was $254.4 million, up 12% from a year ago. Full year revenue was $936.0 million, up 10% from 2013.
Fourth quarter net income was down 8% from a year ago, to $69.6 million. Ansys still has one of the largest net income to revenue ratios in the engineering software industry, with net income at 27% of revenue. By comparison, Autodesk net income as a percentage of revenue in the most recent quarter was 3.2%.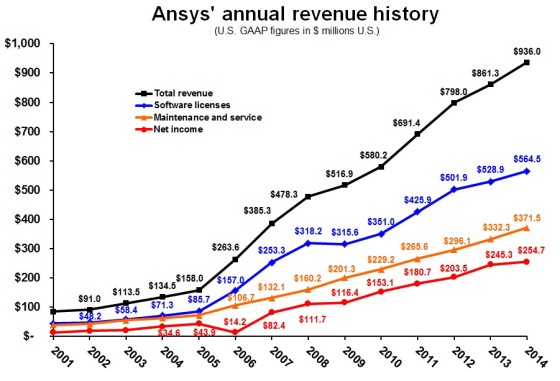 Despite a rough quarter for currency fluctuations, Ansys CEO James Cashman says the company "delivered double-digit revenue growth in constant currency for the quarter."
In November 2014, the Ansys board increased its share repurchase from the remaining 1.6 million shares (under an older authorization) to 5.0 million shares. The company also announced it expects to be more aggressive in its share repurchase activity and set a repurchase target of $200 million through March 31, 2015.
Digging further into fourth quarter revenue:
Software licenses: $157.6 million, up 6.7%
Maintenance and service: $96.7 million, up 9.6%.
Fourth quarter revenue by regions:
North America: $91.3 million, up 11.6%
Europe: $86.6 million, up 3.4%
Rest of world: $77.5 million, up 10%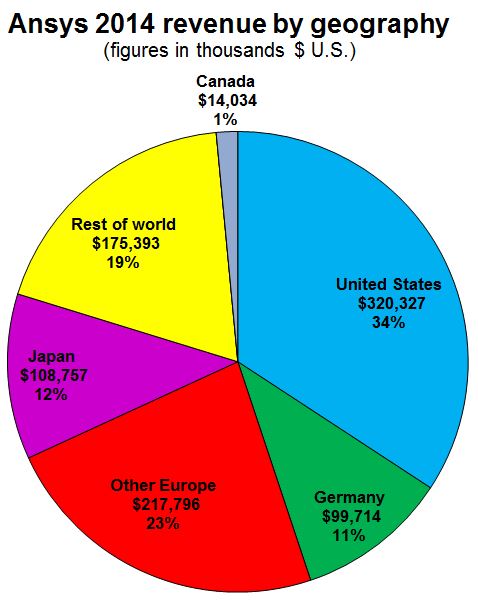 For all of 2014, Ansys set revenue records in all categories.
Four more of our custom charts follow; for larger versions visit our Facebook page:
https://www.facebook.com/media/set/?set=a.1084659068217964.1073741860.213851138632099&type=1
L. Stephen Wolfe, P.E., a contributing analyst for Jon Peddie Research, provided research and his usual legendary insights for this article.