Multi-touch gestures allow full viewing control, with support for PRC and PMI data.
Tech Soft 3D has released 3D PDF Reader for Android, available for free on the Google Play store. 3D PDF Reader allows the use of multi-touch gestures to rotate, pan, zoom, slice, section and interrogate 3D data embedded within a 3D PDF file.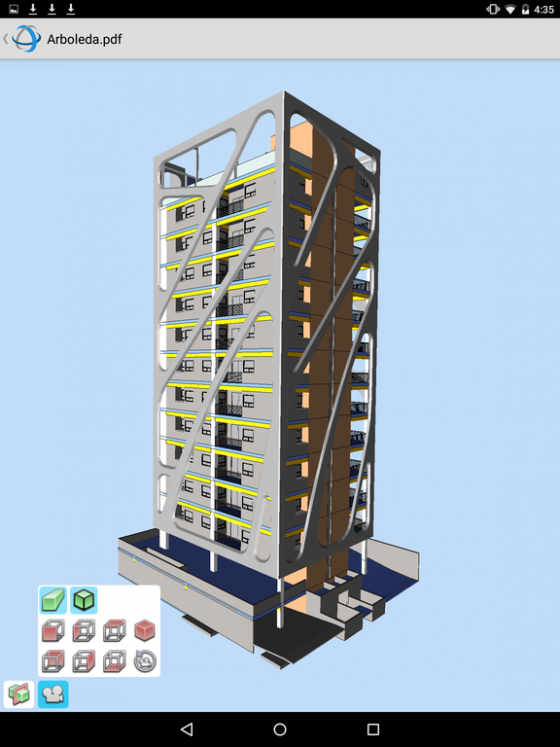 This latest release builds on previous technology, formerly available only on iPad/ iPhone, to more closely replicate the experience of desktop 3D PDF viewing from  mobile devices.
According to Gavin Bridgeman, Tech Soft 3D VP of Products, the company's goal is to have 3D PDFs display the same way on mobile devices as they do for Adobe Reader on desktops. Tech Soft 3D is Adobe's official PDF technology partner and uses the same native 3D technology in 3D PDF Reader found in Adobe Reader.
Bridgeman says 3D PDF Reader is also the only mobile application with 100% format support for the recently ISO-certified PRC format; this means 3D content from standards-compliant 3D PDFs can display with complete accuracy on mobile devices. Extending PRC-formated 3D PDFs to mobiles allows users to leverage the benefits of PRC, a compressed format that represent models as exact solids with boundary representations (B-Rep). "This data-rich information can then be communicated to anyone, anywhere in the value chain across industries, workflows – and now, devices," says Bridgeman.
3D PDF Reader 1.5 for Android also supports Product Manufacturing Information (PMI), views, isolating and hiding parts in an assembly, and creating complex section cuts. Files can be loaded directly from email attachments or cloud-based storage applications such as Box or Dropbox. 3D PDF Reader can also calculate physical properties on a per part basis, recognize precise geometry in solid models, animate transitions between views, and create section views. In addition to supporting PRC and U3D file formats, it also reads STL, OBJ, PLY and HSF.