This new non-watermarked version of Nuke 9 has few functional restrictions.
Visual effects software house The Foundry has released a non-commercial version of its popular video composting software Nuke. The software is available to anyone who wants to learn the software, but stands as a separate product from The Foundry's educational products.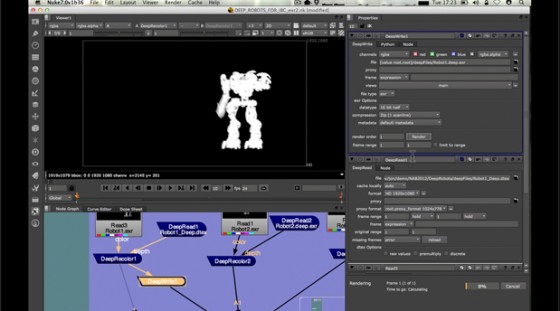 Every film nominated for a Best Visual Effects Oscar since 2008 has used one or more software products from The Foundry. Leading studios including Weta Digital, Atomic Fiction, Industrial Light & Magic, Ingenuity Engine, Encore, and Imaginary Forces all use Nuke. "When companies are looking for new compositors the first thing they look for is your knowledge of Nuke,' says Astrid Busser-Casas, a digital compositor who has worked at Weta Digital, Double Negative, The Mill, and The Framestore.
All products in the Nuke family (Nuke, NukeX, and Nuke Studio) are now available as non-commercial versions. The Foundry says there are a few differences between the commercial and non-commercial versions. The basic limitations of using the non-commercial versions include:
Licenses are not valid for commercial work at home or in a company, or for use in a commercial environment when completing work or in an educational institution. Educational licenses are available separate
Licenses cannot be used in the same pipeline as commercial versions of Nuke or in clusters of non-commercial licenses.
Key feature differences:
Output resolution up to HD (1920 x 1080).
Some nodes disabled including: the WriteGeo node, Ultimatte node, Primatte node, BlinkScript node, and GenerateLUT node.
2D format support disabled for MPEG4 and h264.
Encrypted data storage and limited python scripting.
The Foundry's online community is available to non-commercial users, including a special non-commercial forum.
The Foundry 2015 Showreel: