New JPR report says a software giant once dismissed as mature sprouts green shoots.
Jon Peddie Research (JPR), the industry's research and consulting firm for graphics and multimedia, announces the new edition of its CAD market study, which includes historical data and forecasts. JPR's CAD Report tracks suppliers of CAD software and related products and has done so for over 15 years.
JPR estimates the CAD software market to be an $8 billion market with 5.15 annual users. JPR expects the market to grow to $8.7 billion in 2017 at a compound annual growth rate (CAGR) of 4%.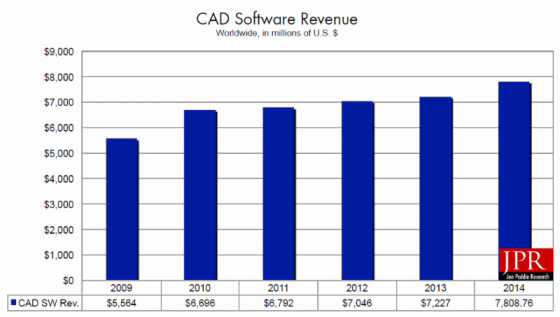 The news is encouraging and consistent with economic trends, JPR says. The field of CAD has grown to encompass many disciplines, industries, and capabilities; the report concentrates on the tools used to produce CAD drawings and models. From that point of view the report offers market share data for the major companies, geographic breakdowns, an estimate of users, and forecasts for the future.
The CAD market has been marked by a modest growth rate for decades, but that doesn't mean the industry is not changing. There have been significant changes in the years following the 2009 recession. As is typical in all recessions the industry has become more efficient, it has tightened in terms of employment, and it is poised for growth in the coming years.
As the advantages of a digital workflow are extended to the field and to the shop floor the numbers of people accessing CAD data are growing. New access to training and software is helping the CAD workforce move to more efficient methods and advance their skills. The long, long awaited transition to 3D is picking up speed and the gap between 2D and 3D workflows is growing more pronounced in some industries.
For purchase information visit the JPR website: www.jonpeddie.com