Version 2.0 comes only five months after the initial release.
When TechSoft 3D took charge of 3D PDF technology from Adobe last year, the promise was made that CAD specialists in charge of 3D PDF would provide better service to the industry than the busy and distracted Adobe. Germany developer PROSTEP AG, best known for its IGES and STEP translators, is among the first to harness the benefits TechSoft is delivering to the CAD industry.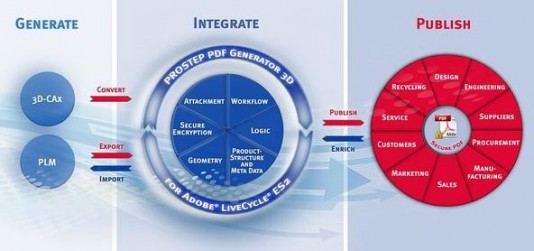 PROSTEP PDF Generator 3D 2.0 comes only five months after the initial release, but with enough new features to qualify for more than a "point upgrade." PROSTEP says new code makes it easier to automatically read out BOMs, other product data, and related documentation and incorporate it all into a 3D PDF document. Once melded into a 3D PDF, the data can be read by any one with the current version of the free Adobe Reader.
CAD file formats added to this version include Siemens PLM NX 7.5 and Solid Edge ST3, Dassault Systemes SolidWorks 2010 and 2011, and Autodesk Inventor 2011 and 2012.
New in this version are two optional modules, PDF Generator 3D Reader Extensions and PDF Generator 3D Rights Management, which may be used during generation of 3D PDFs to define exactly what the recipient may and may not do with the documents.
PDF Generator 3D Reader Extensions Module offers the option of activating a large number of additional functions for using the generated 3D PDF documents in Adobe Reader. The recipient can, for example, add comments or fill in certain fields on a form. PDF Generator 3D Rights Management Module allows the information contained in the 3D PDF documents to be protected against access by unauthorized persons. Access rights can be restricted to a specific period of time and if necessary can be revoked when, for example, a document is no longer valid.