Increased realism and faster production times suit clients like Game of Thrones and The Flash.
Splashy special effects will get a boost for 3ds Max owners who use the Chaos Group fluid dynamics plug-in Phoenix FD. The company, based in Sofia, Bulgaria, has released a new version that takes better advantage of GPUs and what it says are significant improvements to its FLIP liquid solver.
Chaos Group has emerged as a leader in visualization technology, with plug-ins for a wide range of leading technical software products including Autodesk 3ds Max,  Maya, and Revit; McNeel Rhino; The Foundry Modo; and Trimble SketchUp. Chaos Group rendering technology is used by architects and Hollywood studios; named users include television series Game of Thrones and The Flash, and the architectural studio of Renzo Piano.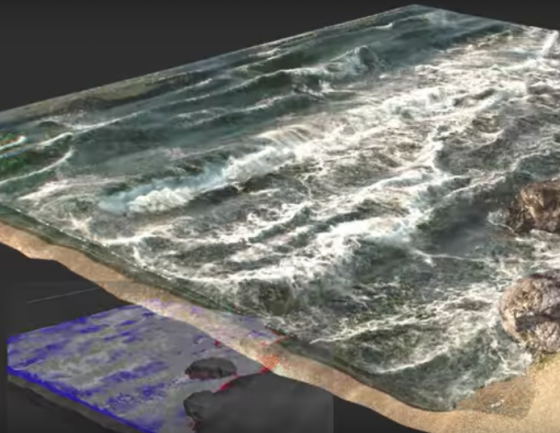 "Phoenix FD is our go-to tool for fluid simulations," said Joern Grosshans, VFX Supervisor at Mackevision. "When working on the new season of Game of Thrones, we needed the wakes coming off the CG ships to look as realistic as possible. Phoenix FD proved to be reliable, fast, and seamlessly integrated into 3ds Max. It was exactly what we needed."
Chaos Group says Phoenix FD for 3ds Max has been "significantly upgraded" with "fast-paced productions" in mind. Specific new features and enhancements include:
Ocean simulations: Create infinite ocean waves that never repeat; Seamlessly transition from procedural ocean waves to simulated beach waves.
FLIP solver: Faster, more realistic liquid simulations for splashes, sprays, foam, mist and waves.
GPU acceleration: GPU speed can now be applied to previews as well as final renderings.
Fire and smoke solver: Realistic smoke and fire with natural rolling motion and fine details can be created without increasing resolution.
Cascade simulations: A series of simulations can now trigger and interact with each other.
Refine existing simulations: Add detail and increase resolution without changing simulation shape or behavior.
Simulation retiming: Speed up or slow down simulation playback, useful for slow-motion effects.
Custom emission sources: A wide range of new emission sources including animated meshes, texture maps, particles and more.
New forces: Influence simulations with forces like wind, spline follow, and mesh attraction.
Compatibility: New interoperability with industry tools and standards including Alembic, Krakatoa, Stoke MX, and OpenVDB.