An iterative approach to concept modeling that can send 3D data on for final work.
Civil engineers have an abundance of data to work with these days: point clouds, site surveys, photogrammetry, and existing GIS data. It can be overwhelming to try to work with this data on a preliminary site design, like a sculptor working with differing densities of clay. Bentley Systems has announced a new product designed to make conceptual modeling for roads and bridges using all these data sources a simpler task.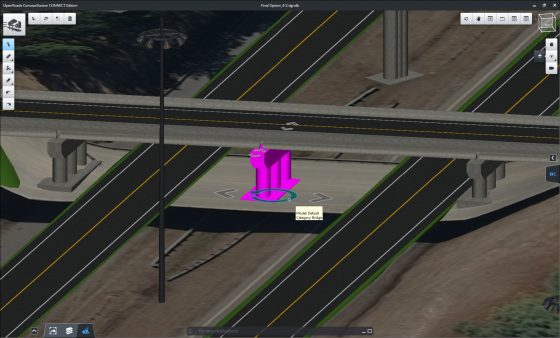 OpenRoads ConceptStation is designed to be a concept modeling tool for road and bridge preliminary (conceptual) designs. Bentley says it can help engineers create new models "in a matter of hours, not days." It is designed to provide an iterative modeling method while taking advantage of the wide varieties of site data engineers have at hand.
ConceptStation also has drawing tools and a project cost calculator, to further assist the concept analysis. Models can be brought forward for detailed design work into OpenRoads Designer, preserving the data as the project moves from concept through construction.
HNTB Corporation is one of the largest civil engineering firms in the US, and has been an early tester of the software. "OpenRoads ConceptStation allows HNTB to easily assemble existing condition data from different sources in the beginning of a project. From this base information, we are able to create multiple design alternatives for business development, as both an owner-representative or when working collaboratively with our partners. We can identify high-cost items and issues and propose alternative technical concepts when appropriate for our clients. This conceptual design application helps us reduce costs while creating more optimal designs for our clients," said Mark Urban, a senior vice president for design-build projects at HNTB.
Bentley is also working to make ConceptStation play nice with other vendors. PTV Group is the developer of Vissim, software for microscopic traffic simulation. "By collaborating closely with Bentley on OpenRoads ConceptStation, customers of both companies benefit. Bentley and PTV Group now offer clients a smooth and convenient workflow process that integrates two of the leading global design and traffic engineering software platforms," said Miller Crockart, vice president, global sales and marketing, traffic software, PTV Group.
Key capabilities of ConceptStation:
GeoCoordination services find, download, import, and georeference contextual information to support 3D design modeling workflows, including point clouds, 3D reality meshes, terrain data, images, and GIS information.
Engineering sketching tools to create 3D models to conceptualize roads, bridges, ramps, guardrails, retaining walls, and other infrastructure designs.
Automated design cost generation, allowing engineers and planners to identify high-cost items or potential risks in the project, extract quantities, and analyze project costs to facilitate better project decisions.
Integration of LumenRT (Bentley's visualization and reality modeling software) for production of real-time, realistic scenes without the need for intensive and lengthy pre-rendering.
Integration of PTV VISSIM to incorporate traffic analysis and planning for OpenRoads conceptual or detailed design.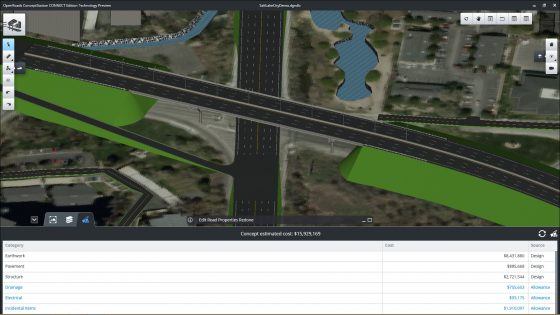 What do we think?
This is the kind of product that should make people sit up and take notice. Despite more than a decade of 3D civil engineering software solutions from Bentley, Autodesk, Trimble, and others, there is still a huge percentage laboring in 2D and struggling with how they should manage all these new kinds of data. Perhaps something that turns preliminary site design into a single-day task—and then sends the design along for detailed work-up without starting from scratch—will convince CE firms it is time to turn the corner and embrace 3D.