Complex environmental and geological models can now be viewed by anyone with a free PDF viewer.
A new deal between two scientific visualization specialists makes it easier for complex geological engineering and earth sciences professionals to incorporate the use of 3D PDF into their work.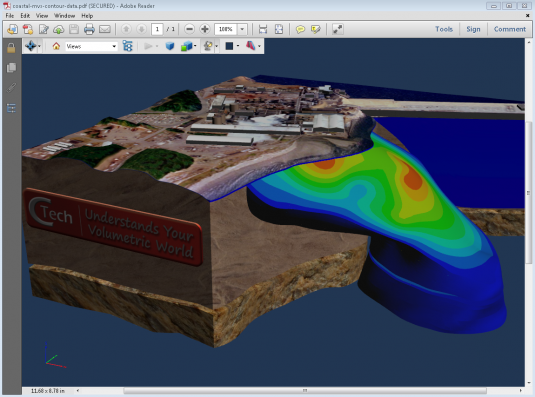 Visual Technology Services (VTS) sells PDF3D, an independent specialist in creating 3D PDF documents for science and manufacturing. C Tech Development is a research and development company focused on earth science software for environmental, oceanic, archeology, mining, and geologic data analysis and visualization. The terms of the deal call for C Tech to distribute PDF3D, VTS's primary conversion application for creating 3D PDF documents from complex technical graphics. The integration of the two company's technologies will allow C Tech customers, who include some of the largest geographic and oceanographic organization in the world, to quickly generate 3D PDF documents. Anyone with a standard and up-to-date PDF viewer can then have access to the complex earth science and environmental charts and diagrams created by C Tech customers.
The PDF3D integration and distribution is available immediately, directly from C Tech.