"Simultaneous Sheet Metal" technology lets users work concurrently on flat, folded and bend table representations.
Onshape today released new sheet metal design capabilities for its cloud-based mechanical CAD design system. The new tools allow creation and refinement of sheet metal parts with simultaneous generation of editable, synchronized flat, folded, and tabular views.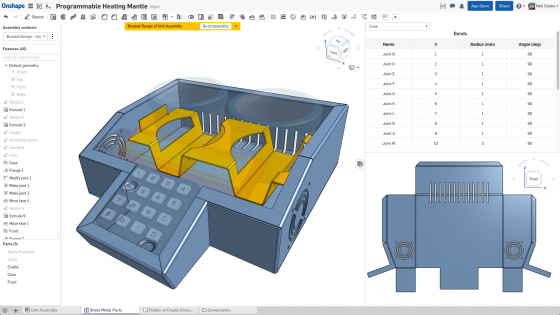 Other CAD systems that specifically support sheet metal design allow users to work in one mode (flat, folded or tabular) at a time. Onshape shows all representations in one simultaneous view. When designers edit one view, the other two are synchronized automatically.
When editing sheet metal from the bend table view, a manufacturer can quickly change model parameters — such as the radius or order of individual bends — while preserving original design intent. The results of the changes are immediately visible on the flat and folded views. "No other CAD system offers the ability to edit this information in an easily accessible table view," says Scott Harris, Onshape VP of product definition and user experience. "This has been one of the most highly anticipated enhancements requested by our customers."
The new precision sheet metal features, now concluding early visibility testing, will be made available to all Onshape users in a near-term release. A video showing sheet metal design in Onshape is now available on the company website.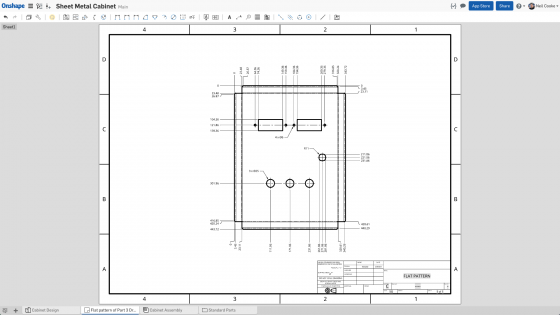 What do we think?
"See more, do more" defines productivity on the computer. When Jon Peddie first said that line, he was referring to screen real estate. But having two or three views of the same sheet metal design on the screen, all updating in real time, certainly qualifies. Seeing flat and folded views side-by-side allows a designer to visualize errors and interferences immediately, consider alternatives and ultimately, reduce scrap and save time.
Sheet metal design is a often a collaborative project between a design engineer and a manufacturing engineer. The Onshape approach allows designers to build in design intent, and allows fabricators to adjust a model based on specific tooling, without violating the design intent.