Traditional desktop software becomes a cloud service while maintaining local storage.
By Randall Newton
Last year a well-funded startup called Numecent came out of stealth mode with a new technology called cloudpaging for faster delivery and use of application software and mixed-media content. With a promising approach to application streaming, Numecent has been able to raise funding from its early days and last March announced another $13.3 million in funding from T-Venture, the venture capital arm of T-Mobile.
At the company's debut last year, JPR called Numecent's new technology "groundbreaking" and worth close scrutiny. This week Numecent introduced the next step, using cloudpaging as the basis for a new cloud platform it calls Native as a Service (NaaS).
Native as a Service is designed to deliver native Windows applications to client devices. In short, it means products like Excel, SolidWorks, 3DS Max, or Photoshop can compete in the fast-growing Software as a Service market without having to be rewritten from scratch as cloud-based apps. Not as a subset, but as the full existing commercial version. Software that today is bought on a perpetual license and installed on a local Windows computer can now be sold on subscription and used as if it were cloud software on any device, with the added advantages of local storage and the depth of functionality that only desktop software possesses today.
Native as a Service is a white-label offering, meaning it is software plumbing for software vendors to buy and use to turn their desktop products into cloud products. According to Numecent CEO and co-founder Osman Kent, NaaS can't come a moment too soon for independent software vendors (ISV's). "The web-based market for software is growing at 17% CAGR" (compound annual growth rate) says Kent, "while traditional desktop software is only growing at a one-to-two percent rate. It is a typical innovator's dilemma."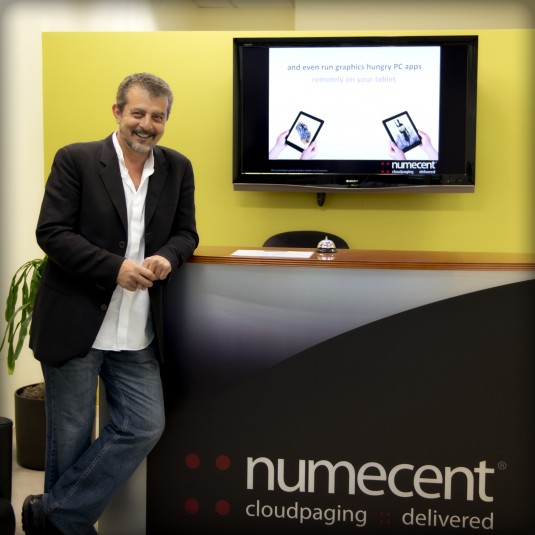 Redefining the cloud layers
In the current cloud deployment model, Infrastructure (IaaS) is the foundational layer upon which Platform (PaaS) and Software (SaaS) are added to deploy useful services. Numecent says Native as a Service occupies the same layer as SaaS, with the difference being SaaS is software originally written for the web while NaaS delivers software originally written for the desktop.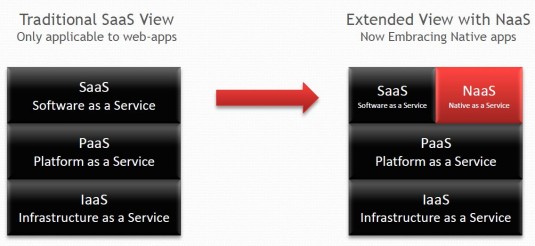 As under-the-hood technology, NaaS is a multi-tenant platform hosted on Amazon Web Services supported by a fully integrated Content Delivery Network. Using provided tools and services provided, Numecent says  ISVs can rapidly "cloudify" and optionally "SaaSify" their Microsoft Windows-based applications and deliver them from the NaaS platform almost instantly, with zero installation on client devices. The workflow does not require any access to source code and can be outsourced to Numecent-certified professionals. If allowed by the ISV, cloudpaged applications can be run offline while under full license control.
Numecent says its patented cloudpaging technology delivers NaaS from the cloud between 20x to 100x faster compared to a linear digital download, then executes on the client platform without installation and without IT support. And when the app is closed, it leaves no residue In your system, you wouldn't even know it was ever there.
"Last year we showed how cloudpaging solves the download and installation problems by making cloud delivery almost instantaneous," says Art Hitomi, Numecent co-founder and CTO. "This year, cloudpaging also solves the problem of subscription licensing from the cloud. With NaaS, we are now delivering all three benefits in a unified and effortless cloud service. We did all the hard work so that ISVs can focus on increasing their revenues and gross margins."
"We believe this category is needed because ISVs with Windows apps face substantial threats," says Kent. "They can't participate in the rapidly growing cloud economy."  NaaS provides zero install, removes piracy, and makes subscription pricing possible. "Native apps behave like web apps but better" says Kent. Traditional ISVs can become cloud apps without distracting their engineering resources from the tasks they know best.
Windows software converted for use in NaaS do not run in a browser, they run as if they were native applications installed on the device. Numecent's cloudpaging software works in the background to deliver code as required for operation, but the work products (the spreadsheet, the 3D model, etc.) is still being produced using the local client's computing resources, not on the cloud-based CPUs and GPUs. Graphics technology is processor intensive; in recent years vendor have said high-performance applications like CAD would always be desktop products. "We are not countering the idea that CAD must be a desktop app," says Kent. "We get rid of the other friction points."
This is not pixel streaming, insists Kent. "Pixel streaming is not scalable. Today a Tesla 4 is faster than most of the current desktop CPUs. So why cram all the GPUs into a server room [to do graphics processing and pixel streaming?]" NaaS is a distributed system where the software is paged onto the remote device where most of the processing will still be done. Kent describes the process as a thin client concept that assumes a very fat thin client.
Starting in October Kent says there will be significant announcements from leading software vendors who are ready to deploy one or more of their products with NaaS, including one CAD vendor whom Kent says "had tried to do cloud for years; we did it in one day and on day two demo'ed the service on a tablet."
Numecent says NaaS is immediately available worldwide on an "invitation only basis" for qualifying ISVs.
Our take
In recent years the largest vendors of graphics software have said their apps were too complex, too processor intensive and just plain too big to become cloud apps. We noticed the protests stopped late in 2012, after Numecent went public with its first iteration of cloudpaging and quietly made the rounds showing what NaaS could accomplish.
If Native as a Service does all Kent and company says it can—and we have no reason to doubt them—it is a new game for developers. AutoCAD, SolidWorks, and a thousand other Windows-based professional graphics products do not have to be rewritten from scratch to compete in the brave new world of SaaS, running under a utility model of computing.