Reveal is an R&D experiment that uses voice and gesture recognition to put the morning's news on your bathroom mirror.
The New York Times R&D Lab is showing off a bathroom mirror that can show you the weather outside, deliver the morning's headlines or display your health data.  Called Reveal, the mirror is a combination of webcam, gesture recognition (using Microsoft Kinect) and augmented reality display superimposed on a special surface replacing the normal bathroom mirror. The NYT researchers call it "augmented reflection," adding more adroitly that Reveal "can reveal the halos of data around real-world objects, including ourselves."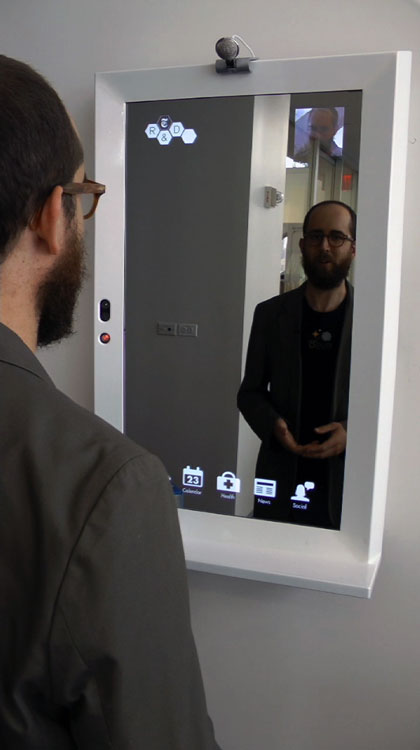 As shown in the attached video below, Reveal uses facial recognition to call up personal data, voice commands to switch between views, and gestures to select content. An RFID-enabled shelf behind the mirror responds to objects placed on it, such as medications and personal care products. The morning headlines flash along the bottom of the mirror/screen, and the reader may choose to follow up and read the available article.
The Times says its R&D team developed the hardware and software in-house, and that Reveal is an ongoing project. The mission of The New York Times R&D is to explore the future of media.
Reveal Project – Personal Data Mirror from NYT R&D on Vimeo.