The Kindle Fire HD is clearly aiming at the iPad more than any other tablet.
Amazon held a Kindle event in Los Angeles last week and made several announcements, not the least of which were the new Kindle Paperwhite, as well as an updated Kindle Fire and a brand new Kindle Fire HD. It looks like the new models hold up against the competition.
Amazon may be the only company that beats Apple on its own terms. Amazon has a wider range of products, a bigger store, and possibly the world's best distribution system—the only thing it doesn't have (yet) is its own line retail outlets.
The fifth-generation Kindle e-book reader, the Paperwhite, has 62% more pixels and 25% increased contrast, with a patented built-in front light for reading in all lighting conditions. Claiming up to eight weeks of battery life, it's a thin-and-light design for $119. The Kindle Paperwhite Wi-Fi + 3G wireless is $179.
The higher-resolution 6-inch Paperwhite E-Ink display has a pixel density of 212 pixels per inch (compared to the standard E-Ink version of the Kindle at 167 ppi). The Paperwhite's 1,024 x 768-pixel e-ink display is a significant boost on the Touch's 800 x 600-pixel screen.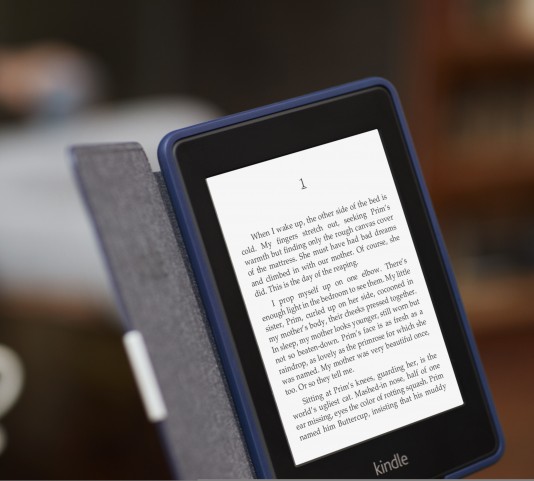 The device weighs 7.5 ounces and is 9.1 mm thin. "Paperwhite is the Kindle we've always wanted to build," says Amazon CEO Jeff Bezos. "The technology didn't exist to build a display with this level of contrast, resolution, brightness, and battery life, so our engineers invented it."
Amazon also reduced the price of the smallest Kindle e-Book to US$69. The Paperwhite also has Amazon X-Ray, which provides additional background data on the text and should be very helpful when reading novels with a sprawling cast of characters.
The new Freescale i.MX50 800 MHz, ARM Cortex-A8-powered Kindle Paperwhite and the Kindle Paperwhite Wi-Fi + 3G are now available for preorder on Amazon's website and ship October 1. The new $69 Kindle is available, around the world and began shipping September 6.
Amazon ups Fire resolution too
Amazon also increased screen resolution across the Fire line, with the new models called Kindle Fire HD. It's not as high res as Apple's Retina Display, but Amazon is clearly putting this machine up against the new iPads, and the top-of-the-line Kindle model sports 4G LTE connectivity—also like the iPad.
The dual-core Corte A9, 1.2 GHz TI OMAP 4430-powered HD 7 (which Bezos claimed outperforms the Tegra 3) has a display resolution of 1280 x 800 and comes with 16 GB or 32 GB memory, exclusive Dolby Digital audio, WiFi connectivity. It claims 11 hours of battery life and is priced from $199 (16 GB) to $249 (32 GB).
The dual-core Corte A9, 1.5 GHz TI OMAP 4470-powered 8.9-inch model features 1920 x 1200 screen resolution, 32 GB, and 64 GB memory options. This model starts with a slightly higher price of $299 (16 GB), and with LTE gets as high as $499 (16 GB) or $599 (32 GB).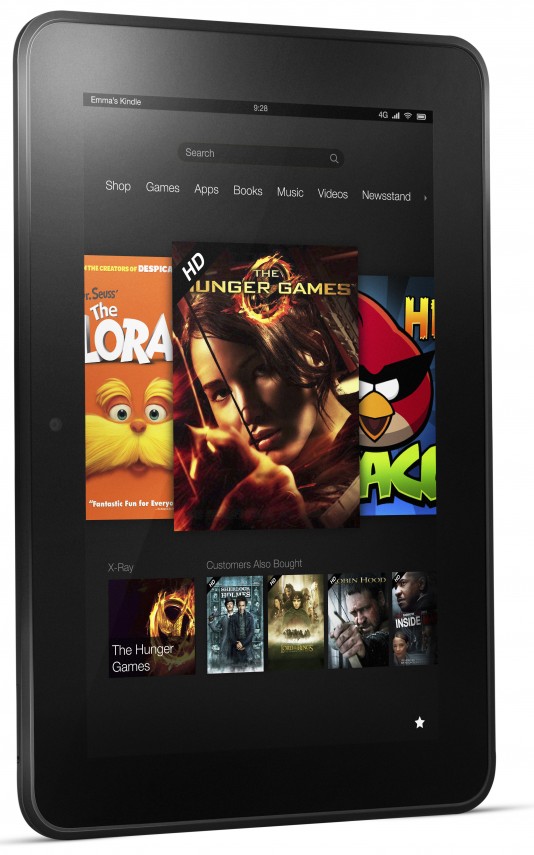 Related