There is considerable security in being owned by one of your largest customers, especially one known for taking the long view.
By Kathleen Maher
It might be obvious, but it's worth repeating: the difference between high-end companies and companies serving more mainstream customer bases is the level of customer relationship. The big three high-end PLM companies—Dassault Systèmes, PTC, and Siemens PLM—work for their customers in a much more direct way than those companies selling CAD tools to broader audiences, such as Autodesk, Dassault's SolidWorks, Siemens' Solid Edge, and the companies jockeying around at the entry level of CAD.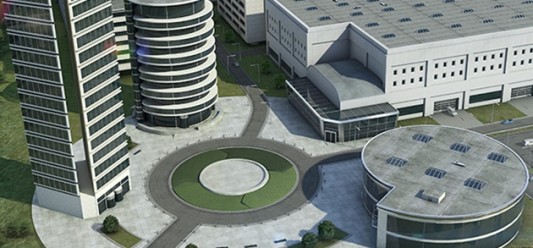 At Siemens PLM annual analyst day last week, CEO and President Chuck Grindstaff and crew were upbeat. They barely deigned mention of the SolidWorks press event, which was being held across town at the same time, though company execs freely took potshots at SolidWorks' parent company, Dassault, saying, "We're doing, not dreaming." They were referring to Dassault's crazy ad about placing a town in the desert and bringing water in by hauling in icebergs (http://www.youtube.com/watch?v=eW7y-ErlfwI).
However, Dassault's competitors can take potshots all they want—so far, Dassault is doing well by extending its PLM business into new markets and trying to capture its customers in an ecosystem built around its V6 platform. Most recently, the company announced a renewed deal with sugar daddy customer Boeing and upgraded its estimates for 2012 to revenues of between €1.9 billion to €2.1 billion ($2.45 billion to $2.7 billion). So, maybe they can move icebergs.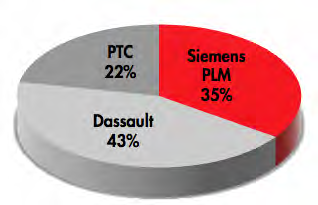 In spite of the Siemens PLM team's optimism, 2012 is not playing out the way they had hoped, and the company has seen opportunities dry up. That's not what we learned at the conference, it's what we learned from Siemens AGs' most recent financial calls. At the conference, the company painted a rosy view, and truly, Siemens PLM has advantages that none of its competitors can claim. Siemens PLM, which was once UGS, was acquired by Siemens because the parent company used the PLM tools in its own businesses, and Grindstaff says that Siemens is interested in expanding its use of the PLM businesses' tools.
He says that PLM does not have guaranteed wins within the greater Siemens environment, "but we have a hunting license." So far, says Grindstaff, Siemens PLM can claim about 10% penetration into the larger company. Thanks to the synergistic aspects of Siemens PLM's position within the company, it has some cushion. However, during their last financial call, Siemens AG CEO Peter Löscher said the company's management is not happy with the current state of affairs, especially the company's declining margins, and they are setting off on a program of optimization throughout the company. Siemens PLM belongs to Siemens Industry Automation Group, which is seeing declining orders and flat revenue growth for the first nine months of fiscal 2012. Siemens is seeing slow growth in Germany and in Northern Italy. This is a further indication of the stubborn problems in the European market, and it's ominous. Löscher says he sees signs that Siemens customers in the Industry segment, including automotive and tool making, are preparing for a market slowdown.
The CAD companies entered the first decade of the 21st century with new ambitions and points of focus. A common thread among the leading companies is the assimilation of capabilities into complex packages and bundles. But, as eager as the companies are to gain broad new talents, they're also looking at ways to conquer niche markets.
Of the big three CAD companies, each has its own niche, but Dassault and Siemens, both companies with European leaders, are fighting hand to hand for auto industry wins. Siemens says its shipbuilding products are gaining market share. And of course, the company has redoubled its efforts in mainstream CAD. Its Solid Edge product, says Grindstaff, is growing faster than its competitors.
Indeed, while SolidWorks seems to be resilient, the conventional wisdom from the press is that market share will drop off as the product undergoes a major architectural revamp. In spite of the wistful predictions of a press rudely treated by SolidWorks, the division is holding its own so far. Autodesk's manufacturing group has seen a slide.
Solid Edge is gaining new users but it's coming from a larger deficit; Siemens PLM is making much-needed changes, and right now the Solid Edge division is reaping the low-hanging fruit. Last year, Siemens PLM reorganized around industries. At the analyst conference executives say the reorganization has been successful. Certainly, it has given the company a much cleaner view for development and sales.
Today, Siemens' strongest markets are automotive, aeronautics and defense, shipbuilding, and fabrication. The company hammered on its position in shipbuilding because it's an area of new growth for the company, and Siemens PLM is taking market share from competitor PTC, which has older software.
Demonstrating new features in the company's design and PLM products, Grindstaff used Teamcenter's new Active Workspace to select certain elements of a car's design to visualize within the context of the car's body. As he describes it, the company's new Active Workspace has "flattened out the user interface." Grindstaff then pulls back to show the car is actually located on a giant ship. Dramatically showing off Siemens' ability to work with data across groups and assemblies, he was able to visualize parts of a monstrous data set using Siemens' HD 3D capability.
When it comes to shipbuilding, the business can be an annuity. Kristin Fletcher of Electric Boats told the audience at Siemens PLM analyst conference her company plans 70 years out; a Siemens executive later said, "That makes my head hurt." Siemens pledges not to leave any customer behind, Fletcher pointed to Chuck Grindstaff and said, "I'm holding you to that promise."
For the future
Siemens is building an end-to-end solution that its customers are free to use or not, meaning that customers can mix and match tools such as design and data management if they prefer using non-Siemens tools. Siemens claims this distinguishes the company from competitor Dassault. Dassault's competitors are positioning their giant competitor as wanting to lock customers into its V6 ecosystem. That's not strictly true, protests Dassault, but they do maintain the world will be a much, much better place if everyone moves to V6. And, Dassault is revamping the SolidWorks engine, which had made customers wary. Dassault pledges to maintain a dual stream so customers are not left behind. For the most part customers have held firm, but Siemens is claiming some inroads for its Solid Edge product, which competes with SolidWorks.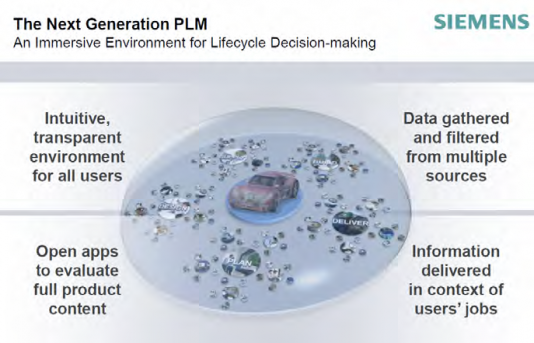 The challenge for the large CAD companies is to improve the ease of use, to enable direct modeling along with the advantages of history-based methods, and to figure out perfect modes of collaboration with equally perfect security.
And they all have some version of end-to-end computing. Where they differ is which end connects to which. In the case of Siemens PLM, their first mission is to look at where their parent company's products connect, and so they're looking at factories, medical imaging, wind, etc.
And because of these fairly unique focus points, Siemens PLM has a renewed interest in scanning and point cloud technologies, which are coming into increasing play for factories, plant management, and the related discipline of marine. Also, Siemens has announced a development product directed toward sustainability and efficient design. The company envisions a tool that will be embedded in key programs including NX and Teamcenter and will offer alternatives in the use of materials for better life-cycle choices.
Siemens' three pillars for innovation consist of three ideas:
Intelligently integrated information—meaning the development of systems-oriented communications between products. The company recognizes this is an area where better links must be forged and easier access enabled. Siemens is also planning to increase communications using mobile devices so they can reach customers wherever they are. They are looking at cloud technologies as well.
Future-proof architecture—As the name implies, as Siemens adds features and capabilities, and it pledges not to break the tools people are already using. It's a tall order, given the rate of change we're experiencing today
High-definition user experience—Siemens has been rolling out its HD3D technology, which is a dramatic tool; it allows users to actually see information in context with whatever relationships the customer defines. This is what Grindstaff refers to as flattening out the UI, and it's another example of a more direct access to information than users traditionally get in high-end PLM systems.
Our take
Siemens PLM has considerable leeway to develop its technology within the purview of Siemens Industry Group. Its priorities tend to be formed by the interrelated companies in that group, but it's also sheltered by the success of the larger company, assuming there is success.
The world markets may manage to sort themselves out in the fourth quarter, and we'll all have a better idea about how the future will work out. Then again, world markets may not sort themselves out, and we'll be treated to another crash. In which case everyone goes back to the drawing board.
Kathleen Maher is Editor-in-Chief of GraphicSpeak and of TechWatch, both published by Jon Peddie Research
Related