The SpectraSensor Pro uses a new optical system to run five times faster than the previous generation of NEC color calibration technology.
NEC has released a new colorimeter it says is five times faster than the system it replaces.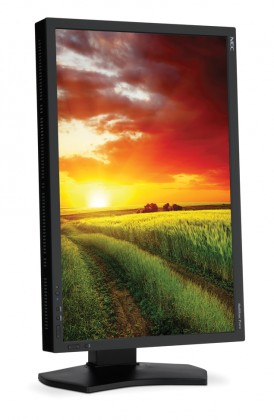 The new SpectraSensor Pro colorimeter, along with an update to SpectraViewII software, is now available for a wide range of NEC monitors (see list below). The new sensor uses X-Rite i1Display technology and is customized for NEC. The sensor is available either as an accessory purchased separately, bundled with SpectraViewII software, or shipped with an NEC SpectraViewII Series display.
NEC says the SpectraSensor Pro is a next-generation colorimeter that uses a completely new optical system, filter technology, calibration architecture and intelligent form factor. The sensitivity and measurement speed is five times greater than the previous generation, while its high degree of color accuracy can be demonstrated on all popular and emerging display technology types including CCFL, white LED, RGB LED and wide-gamut displays.
The target market is users of NEC MultiSync professional desktop monitors, who often find setting the precise color to be a critical path task.
The SpectraSensor Pro is available now with a 1-year limited parts and labor warranty at an estimated street price of $199.
The software update and SpectraSensor Pro are compatible with several large-screen models and every MultiSync PA, P and 90 Series model, including:
LCD2090UXI-BK-SV
LCD2190UXi-BK-SV
P221W-BK-SV
P241W-BK-SV
PA231W-BK-SV
PA241W-BK-SV
PA271W-BK-SV
PA301W-BK-SV