An earlier deal included a right to first refusal if Pointools were up for sale, making today's deal inevitable. Bentley executives compare the acquisition to a similar acquisition 10 years ago that transformed its geospatial capabilities.
Bentley Systems today announced it has acquired Pointools, a UK-based provider of point cloud technology. Bentley says it intends to make point cloud data a "fundamental data type" for AEC, and will weave the acquired technology throughout its foundational products.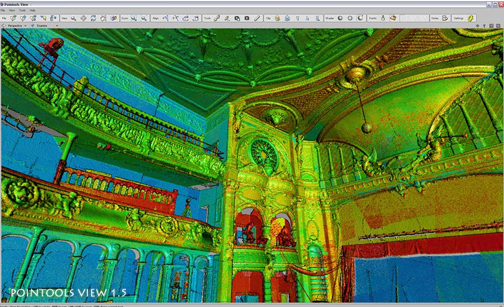 At Bentley's annual Be Inspired Thought Leadership conference today in Amsterdam, senior vice president Bhupinder Singh compared the acquisition to the company's purchase of HMR 10 years ago for 2D raster and warping technology, which became "a critical part" of Bentley's offerings in geospatial and related utility and network infrastructure software. "We see a similar trajectory for Pointools technology and people … point clouds are becoming pervasive."
Singh said the technology would be integrated into Bentley's foundational products, including MicroStation for design, ProjectWise for project data management, Descartes for project and network/infrastructure raster visualization, and Navigator for model viewing and collaboration.
Bentley CEO Greg Bentley told conference attendees the Pointools acquisition was a strategic move that will allow the company to make point cloud data "a fundamental technology." In a preview of what Bentley intends to offer users, massive point cloud data was shown streaming in an 'on-demand' fashion into a Navigator view, running on a separate thread from other project data. "No more carrying big hard drives or clogging networks," Singh said of how Bentley will integrate point cloud data into project workflow. "As point clouds become a fundamental part of your information modeling, it becomes more integrated and useful."
As if to underscore the growing importance of point cloud data, there is a second conference going on in The Netherlands this week on point cloud technology, the annual Spar Point Research Spar Europe conference in The Hague. Some attendees at the Bentley conference were shuttling back and forth on the train, to attend sessions in both places.
Pointools has been hardware neutral with regard to the various 3D scanners on the market, and has customers using its software on various platforms, not just Bentley users. Bentley says it intends to continue to offer Pointools products and services to existing customers.
The value in point cloud data
The use of 3D scanners, primarily laser-based, has grown in recent years, especially in civil engineering and process/power plant design and operations, to the point of becoming commonplace on large projects. The data is rapidly becoming cost-effective to capture; the bottleneck in usage remains the tremendous quantity of raw data. It is not uncommon for users to carry a point cloud file in an external hard drive that is accessed only when needed.
At the heart of this acquisition is Pointools's Vortex engine for referencing point cloud data. Bentley has been using the Vortex technology since it first signed a continuous technology transfer agreement with Pointools in 2009. Part of that agreement was the right to first refusal if Pointools were to be available for sale, making today's announcement inevitable.
At this week's conference, Bentley is trumpeting the term Information Mobility to describe its continuing efforts to integrate all AEC project data throughout its product line and beyond. This deal insures Bentley can include as-built and as-operated data into any project data flow.