Customers switching to subscriptions at a faster rate than predicted means lots of revenue that can't be booked in the current quarter.  
A stronger than expected move among customers to subscription accounts was good news for PTC in the long run, but the surge meant the company ended its fiscal year with a net loss for the quarter.
For the fourth quarter of PTC's Fiscal Year 2016, ending September 30, 2016, revenue was $288 million, down 8.4% from 4Q15. Revenue from software sales (all revenue models) was $239 million, down 10.5%. Revenue from services was $48.6 million, up 1.5%.
PTC reported a net loss in the quarter of $28.4 million, compared with a quarterly net loss of $5.5 million a year earlier.
For the full fiscal year, revenue was $1.14 billion, down 10% from a year ago. The company reported a net loss for Fiscal 2016 of $54.5 million, compared to net income of $47.5 million in Fiscal 2015.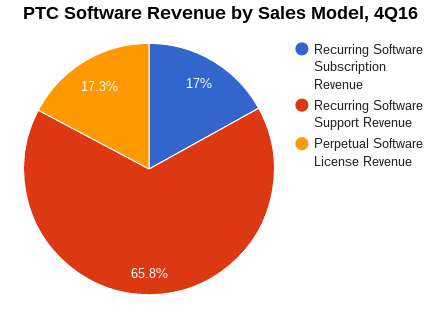 Breaking down fourth quarter software revenue by sales model:
Recurring software subscription revenue: $40.6 million, up 55%

Recurring software support revenue: $157.5 million, down 5%

Perpetual software license revenue: $41.3 million, down 95%
Revenue in Fiscal 2016 was impacted by extraordinary expenses and three acquisitions:
A $28 million legal settlement payment following the results of an investigation into sales practices in China;

Separate payments of $5 million and $55 million for restructuring (severance pay and related layoff expenses, as well as costs of closing facilities);

The acquisition of Kepware for $99 million;

The acquisition of Vuforia for $65 million;

The acquisition of ColdLight for $99 million.
Fourth quarter revenue by regions, with year-over-year change:
Americas: $122 million, down 5%

Europe: $107 million, down 11.8%

Japan: $27 million, down .3%

Pacific Rim: $32 million, down 16%.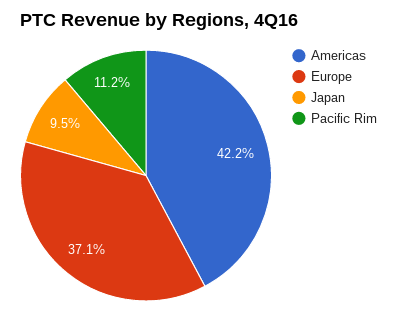 To explain the yin and the yang of PTC performance requires using metrics we don't normally track. In the fourth quarter Subscription Annualized Contract Value (ACV) was $50 million, up 365%. PTC had previously told analysts to expect ACV in the quarter to be in the neighborhood of $25 million. Two mega deals helped explode the expectation, including a service lifecycle management (SLM) deal for $20 million, half of which fell into the ACV column.
What do we think?
PTC customers are clearly voting with their software budgets in favor of subscription contracts. Three key categories (bookings growth, margin improvement, and subscription transition) were all above previously stated expectations.