2D remains popular in the world's second largest CAD market. Only Graebert offers the same CAD technology on desktop, mobile, and cloud. 
In only three years CAD software maker Graebert GmbH has moved from being the new kid on the block to a major player in Japan, the world's second largest CAD market by total seats over time. At the company's annual meeting in Berlin recently, Graebert expanded an existing joint venture and announced a product refresh for Japan.
Graebert launched a joint venture with Tokyo-based Computer System Technology (CST) in 2013, for the distribution of "Jdraf" a Japanese-language version of its dwg-compatible CAD software. The product quickly because popular as a full-featured but inexpensive alternative to Autodesk AutoCAD. Today Jdraf is used by "thousands of companies" including the top three construction companies in Japan, according to company founder and CEO Wilfred Graebert.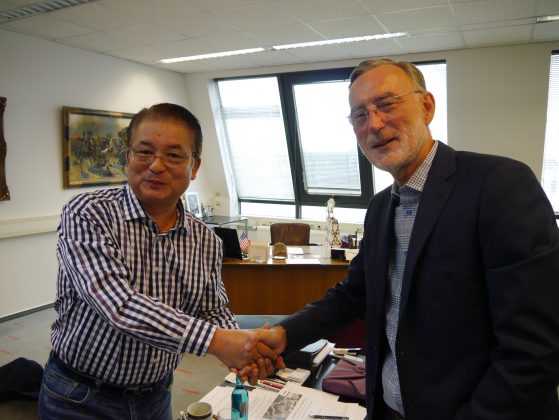 The expansion of the joint venture between Graebert and CST has Graebert taking a 50% ownership stake in the joint venture; previously also known as Jdraf, the new distribution company will be called Graebert Japan. The brand name for software going forth will be the global brands Ares Commander (desktop CAD for Win/Mac/Linux), Ares Touch (mobile CAD for iOS and Android), and Ares Kudo (browser-based "cloud" CAD).
"We see very strong demand for the mobile and cloud versions of Ares CAD software," says Yoshiyuki, chairman of the board at CST. "We expect Graebert will give us a strong competitive advantage to become the market leader in our country."
The new Graebert Japan benefits from the existing and continuing support of CST, with more than 130 active salespeople in 21 offices across Japan. Wilfred Graebert says the strong competitive position it now enjoys in Japan, especially with leading construction companies will help its introduction of mobile and cloud CAD. "Many of these large customers have thousands of iPads and a growing interest in Cloud," notes Graebert.
The Japanese iOS version of Ares Touch 2017 is now available in the Apple Store; global availability in English launches next month.
What do we think?
Generally speaking, Japan has been a frustrating market for CAD vendors from other countries. 2D drafting remains very popular, despite Toyota being one of the world's largest users of Catia. The ones who succeed establish joint ventures, as opposed to setting up a sales office. Graebert will continue to benefit from their relationship with CST, as many existing AutoCAD customers not only in Japan but around the globe are questioning the value of having to move to subscription-based software use. Graebert still sells perpetual licenses, but offers a subscription program as well.