Cloud-based point cloud camera to shrink in size and price.
As the Matterport Pro 3D camera gently spins, it captures the colors and contours of a space—and calculates dimensions and spatial relationships between objects. Unlike more expensive laser-based systems that require significant hours of work to create a single 3D model, Matterport claims their Matterport Pro camera is cost effective and easy to use. The com­pany claims it automatically produces consistently high-quality 3D models in the hands of every user. The Matterport Pro 3D Camera is available for $4,500.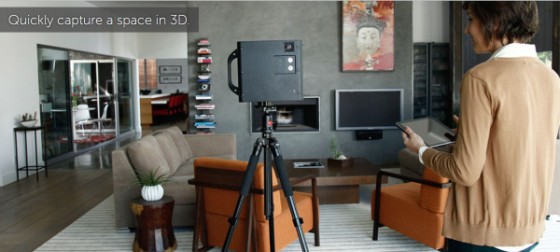 A user scans and uploads 3D point cloud data to the cloud with the Mat­terport Pro 3D Camera. The Matterport cloud-processing technology then gen­erates and hosts an immersive model from captured 2D and 3D data. After the data is crunched, a viewer can inter­act and share a model via Matterport's web page.
The model is made complete through a process of intelligently filling holes in the 3D data. The cloud then takes that model and converts it into a very effi­cient format called a polygonal mesh, which minimizes the storage size of the models and makes it easy to distribute through simple apps. The net result: users feel just like being in the space.
The company says the Matterport 3D Capture app will soon support third-party mobile devices from major mobile phone and tablet manufacturers. That will be possible because the com­pany just raised $16 million in a new round of funding to prepare for a world where we are all able to better relive memories via three-dimensional, immer­sive photographs and video. For now, though, the company is focusing on a more mundane subject like real estate.
DCM led the Series B investment, with AME Cloud Ventures, a venture fund from Yahoo Inc., with co-founder Jerry Yang participating as a new in­vestor. Returning backers in this deal are AMD Ventures, Felicis Ventures, Greylock Partners, Lux Capital, Navi­tas Capital, Qualcomm Ventures, and Rothenberg Ventures, as well as Crate & Barrel founder Gordon Segal and Sling Media founder Blake Krikorian. Mr. Krikorian's brother Jason Kriko­rian led the new investment on behalf of DCM, where he's general partner.
Matterport had more than one term sheet, said chief executive Bill Brown. He declined to discuss valuation. He said that most of the previous investors returned in this round. The Y Combi­nator graduate previously raised about $10 million.