The larger the project, the more developers need workflow management. The Unity utility is a commercial add-on to the open source Tactic.
Unity keeps gaining ground as a game development platform, and as it has grown other content tools find ways to align with it. Now Southpaw Technologies is providing a way to use its Tactic digital asset and workflow management system inside Unity, with a new product called TACTIC | aWare for Unity.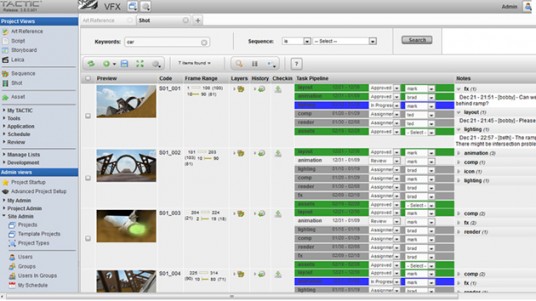 Game developers and other content creators working in small and large teams can now use the familiar Unity interface to access digital files directly from a Tactic database, where all files are securely stored and automatically organized and versioned. The integration will cost $399, and requires the open source Tactic to operate. TACTIC | aWare for Unity will be available for purchase in early April 2014.
Unity is a complete game development ecosystem: a rendering engine fully integrated with a set of tools and workflows for creating interactive 3D and 2D content. The Unity Asset Store also includes thousands of ready-made assets. TACTIC | aWare for Unity will simplify the process of applying naming conventions, for versioning files, for moving files down the production line, and for applying business logic to understand the status of each file or entire productions.
"Software to handle the storage and movement of files through the game development process have been sorely missing from the game development industry since Alienbrain got acquired by Avid almost a decade ago," said Wanda Meloni, CEO of M2 Research. "This new offering from Southpaw couldn't be more perfectly positioned. Tactic is mature software, open source and completely customizable. The integration is a commercial offering, but the price is right in line with many of the apps offered on the Unity Asset Store. It's a great solution for teams in need of asset and workflow management."
Tactic is a open-source web-based platform that allows users to manage the development and delivery of digital assets through the content creation process. Unity users will never have to leave the Unity interface to access and securely manage their assets.
Core features of the integration include:
Bringing structure to game development: This integration makes Tactic a tear-off tab inside the Unity application. Tactic enforces naming conventions and manages the creation and administration of the project folder structures on local machines, to ensure predictable asset locations. It also provides creative teams with a local sandbox to work in. Designers can now interact with the asset database without having to leave Unity.
Files are now Tactic-aware: Once files in a Unity project become aware of Tactic, game developers and other Unity users can take advantage of asset management automation such as event triggers and feedback; review and approval; metadata tracking; and asset costs.
Users will need the latest version of open source Tactic, which can be downloaded from the Tactic Community site or from the TACTIC GitHub project.