Startup Cl3ver arrives to offer easy 3D presentation creation to architects. The company announces new pricing and new tutorials.  
Startup Cl3ver offers cloud-based rendering for architects. The company debuted at SXSW V2V in Las Vegas last summer and the team has been honing the interface and their business plan. It has emerged looking a little like a 3D Prezi for architects. Cl3ver takes advantage of WebGL to present 3D data within a browser. The site enables customers to upload models, define materials and lighting, and then create a presentation, to walk visitors through the model, and highlight aspects of the design. The presentation is dynamic with the ability to turn the model to view it and also zoom to different views. It can also bring up additional information as shown in the 3D House demo pictured in this article.
Supported formats include 3ds, dae, kmz, stl and obj with drag and drop.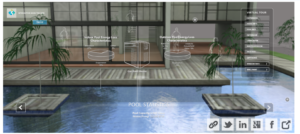 The company has been working on their interface and their website to help visitors and customers through the process of creating content online. It offers sample designs that people can use to understand how Cl3ver works and also as a template to create their own presentations. The company offers instructional tutorials that are short and easy to use.
The company has also updated its pricing models with a $50 per month subscription that can be used as needed, or a 20% discount for paying for a year at a time. Cl3ver also offers a new, free option and also custom subscriptions with unlimited use privileges.
Free subscription users can only create public presentations and they are limited to 3 per month and traffic is limited to 500 visits per month. The base subscription customers can create as many presentations as they want, they can create private presentations, and traffic is capped at 5,000 visits. The custom subscription plans are designed as organization-wide options and is based on the amount of traffic and content an organization needs.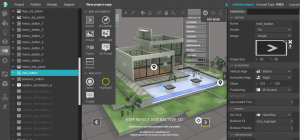 The Cl3ver team refined the workflow and interface through their relationship with architecture firm NBBJ. Ryan J. Mulllenix, a principal at NBBJ said that through the process of working with Cl3ver, NBBJ's architects learned a great deal about their designs-in-progress and what they learned enabled them to create better presentations. "We're able to script and choreograph our message in a much more specific way." At the same time, added Mullenix, visitors could also "have a fluid interchange" with the model as they explored it on their own.
What do we think?
Cl3ver is all about the interface. After all, anyone can have a renderer these days but a rendering is only as valuable as amount of information that can be communicated. The site is very easy to navigate and it only took a few minutes of exploration to figure out how to upload a model and create a presentation.
This is an ambitious start up working on guts and minimal funding. According to published reports, the company has secured $800K from Wayra, La Caixa Capital Risc and European angels. The company has come out of Spain and established U.S. headquarters in Palo Alto with Viktor Nordstrom as the CEO.