Adobe's 3D API codenamed Molehill is set to expand 3D development for the web. Expect to see new applications, games, and dynamic content through your browser on your PC, phone, and tablet.
At the annual Max convention, Adobe CTO Kevin Lynch and company unveiled Molehill, Adobe's new 3D API with graphics hardware support.  Ever since, the developer community has waiting eagerly to get a look at it and to get to work. Adobe has released a beta version of Molehill and Flash Player 11 just in time for the Game Developer Conference going on now in San Francisco.
In addition to Molehill and Flash, Adobe's Labs site (labs.adobe.com) also provides an AIR and Flash Player Incubator, documentation and the Flex SDK, Adobe's open source development tool. Adobe's latest version of the Flex SDK is codenamed Hero and it includes tools for multi-screen development.
Molehill's support for 3D graphics hardware means that developers can create 3D content including interactive content that works within a browser via Flash and Adobe AIR. It supports DirectX and OpenGL, and also the fallback – software emulator SwiftShader.  Developers will be able to take advantage of shaders for dynamic lighting particle systems, complex materials, post effects, and skeletal animation and get hardware acceleration. In keeping with Adobe's multi-screen commitment, content using Molehill will work on a wide range of platforms including Windows, Mac and mobile operating systems including iOS and Android.
There is already wide support for Molehill. Adobe's announcement was greeted with follow up announcements from AlternativaPlatform, Russian Game developers who are creating in-browser games and who also provide a free graphics engine, Alternativa 3d (developers are required to acknowledge the use of Alternativa 3D.) In addition, the Unity game development engine has recently announced support for Flash output and it has promised support for Molehill. Other Flash developers immediately signaled support for Molehill including the Flash Frameworks: Away3d, CopperCube, Flare3D, Minko, Sophie3D, Yogurt3D.
What do we think?
Ten years in the making, 3D on the Web is here and it's going to be huge. Adobe's Molehill is one piece of the puzzle. Given Adobe's widely used tools, Molehill will open up new development opportunities for 3D in browsers. This year's GDC represents an important milestone in the history of 3D. Not only is Adobe making Molehill accessible to developers, but the Khronos Organization is also rolling out WebGL, which is also an API that opens up 3D hardware acceleration in the browser.
We don't see these technologies as competitive but rather as complementary technologies that will expand the potential of 3D via the web. WebGL provides a base for 3D content on browsers that support it (including Firefox, Chrome, and Safari) and it doesn't require a plug-ins. Tools like Flash and the Unity development engine require plug-ins but they offer rich development tools. They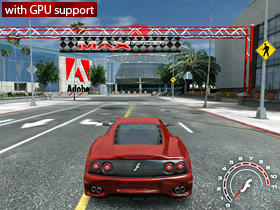 add on to the options available for developers.
By the way, 4G LTE is yet another important puzzle piece because no matter how great the content is on the web, it's got to get to us and right now it's limited by the size of the pipe. As 4G is deployed we'll see speeds of up to 1 Gbit/s download and 500 Mbit/s upload. In contrast WiFi gives us around 300-600 Mbits, and 3G varies but comes in at a minimum of 2 Mbits/s for stationary users.
The way we use our computers and phones is set to change in a fundamental way. – K.M.