The new version includes instant material loading and new file format support.
Luxion has released KeyShot 3.2, an update to its popular rendering and lighting technology solution for product development. Speed of use seems to be the major theme of this update.
KeyShot 3.2 supports instant loading of materials, textures and environments, decreasing the time it takes to find and apply materials. Material Templates can now be applied after a model has been imported; applying materials to the 3D model on import is faster with the support of part names and wild cards.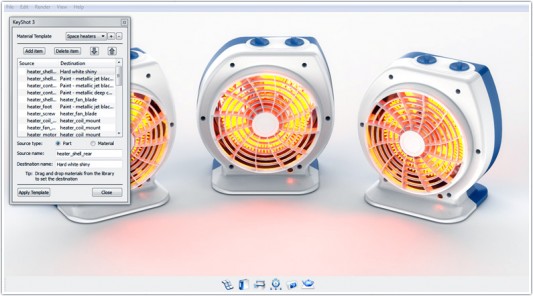 The Undo capabilities have been greatly increased with a completely re-worked Undo stack that provides the option to Undo nearly every command.
Luxion says UI improvements bring a cleaner layout to property settings and options. Arrow keys can now be used to navigate through the scene tree and the camera list. Along with improvements and speed increases across many features, additional enhancements have been made to the SolidWorks importer adding improved tessellation and material mapping. Additional import support has also been added for Autodesk Alias 2013 and Maya 2013.
Other improvements include:
Sync of real-time and advanced render settings in render dialog (ray bounces, shadow quality)
Support for scale and transformations (scale and transformation remembered on all levels)
Increase of maximum ray bounces in real-time settings to 64
UI cleanup throughout the system
Bug fixes
Improvements to SolidWorks importer
Support for Creo 2.0
Support for Autodesk ALIAS 2013
Support for Autodesk Maya 2013
Added Spanish language support (UI only)
Independent of KeyShot 3.2 but also being released are updated plugins for Creo, Rhino and SolidWorks. Updates include improved import and bug fixes.