The lighting specialist works with a variety of 3D products. This release adds Linux and OS X versions.
Precision lighting is crucial to content creators, yet it has for the most part been a tedious process, filled with trial and error. Lightmap's HDR Light Studio 4, released today, offers an alternative.
HDR Light Studio creates a single HDRI map containing the entire lighting for a scene. Now in version 4, the company has added new LightPaint technology, which allows lighting artists to point in the rendered view directing the light to the exact location where needed. Lightmap says this workflow change allows digital content artists to think only about their artistic intent while creating a custom HDRI map on the fly to light the shot. The result slashes the time normally taken to light a 3D scene by enabling the precise placement of lighting and reflections.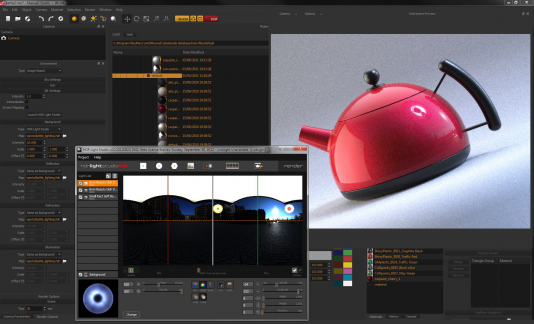 Summary of new features:
LightPaint—Place and select lights directly on the rendered view
LightCam—Look through the lights on the HDR map and use camera navigation to drive their location
FilmBack—Explore the shot with pan and zoom in LiveLight to light details using LightPaint
SunShade—Take control of the brightness of light sources in existing HDRI maps
Improved Interface—Smoother, faster and more space efficient
Cross Platform—Now available for Mac and Linux as well as Windows.
HDR Light Studio 4 also contains Python scripting, enabling live plug-in integration; Autodesk Maya and Side Effects Houdini plug-ins being the first to be take advantage.
HDR Light Studio 4 Single Edition includes plug-ins for KeyShot, Maxwell Studio, VRED, Patchwork 3D, SAP Visual Enterprise Author, Maya and Houdini. The program's Direct Export Push allows users of Modo, Cinema4D, 3DS Max and Maya to send scenes directly into LiveLight.
What users say
Beta user Tom Painter of Bigman, says "LightPaint has revolutionized our lighting workflow. No more trial and error and waiting for re-renders, just instant visual feedback as you move lights around. LightPaint takes the guesswork out of placing light."
"HDR Light Studio 4 became my default lighting solution after about 15 minutes of playing with the Beta… I love placing lights by 'touching' the model, it's so intuitive and a huge time saver." said Jim Cascarina, an animator at UK-based MGV.