Intel Fellow Doug Carmean is serious about his company's mandate to think outside the box.
Intel does a lot of work rethinking. It's got that whole, there go my people, I must find out where they're going so I can lead them mentality. Intel Labs has been empowered to cut loose and try out different ideas.
Doug Carmean works in Intel Labs as an Intel Fellow and Researcher at Large. Lately he has dived into Intel's graphics efforts in Oregon. His most recent work is to explore new shapes, sizes, and jobs for processors. For ten years or so, when companies talked about different configurations for computers, they produced a different box—different sizes, different colors, additional screens, new knobs—but the concept was the same. It was a computer. In a box.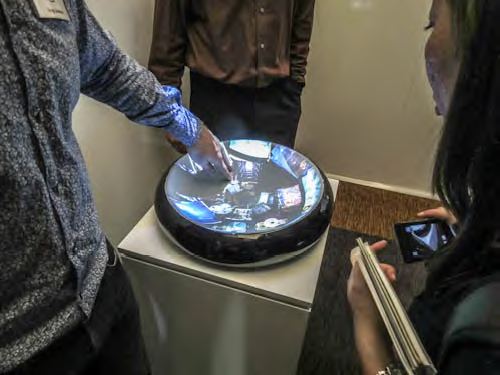 Carmean is jazzed about breaking out of the box when interacting with processors. He obviously likes the idea of applications in which people can touch and move and get sensory feedback. "Why not a ball?" he asks, "Why not a bowl?" For the Intel Labs showcase at the recent Intel Developers Forum, he tried out the bowl idea with one he picked up from Pottery Barn. Images are projected into it from a projector hung overhead, and motion sensing and 3D awareness are provided by a hacked Kinect. You can almost dig down and root around in the images, but in addition to the freedom of gestures, digital technology adds ways to swirl and randomize and simply play.
It's the real world enhanced by computer technology, and as we are fond of saying, that's the future.