New iXVL Player and iXVL Publisher go beyond iXVL View, offering a deeper dive into manufacturing data.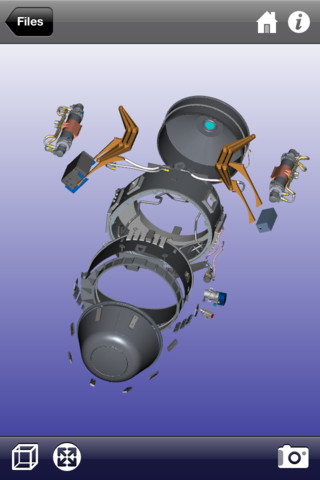 Digital mock-up specialist Lattice Technology has released iXVL Player, a second app for the iPad/iPhone adding new capabilities not found in its original app iXVL View. Lattice has also announced an upcoming Windows program to support the new iOS app.
3D XVL is an ultra-lightweight format used in industries such as automotive, aerospace, defense, heavy machinery, and medical devices where products can have a large number of parts and complex structures. CAD files of over 1GB in size are reduced so that viewing on a modest notebook computer is fast.
Last October Lattice introduced iXVL View, an app with simple capabilities for viewing XVL files. iXVL Player, now available at iTunes, offers additional features including hide/show parts, change display quality, and view and attach snapshots created with XVL Studio. It provides access to additional information including assembly structure and individual part names and properties, and it can update information over the Internet.
To make it possible for iXVL Player to dig deeper into an XVL file than iXVL View, Lattice is also launching iXVL Publisher, Windows software that prepares an XVL file use by iXVL Player. iXVL Player can only view XVL files that have been prepared by the new Windows product.
iXVL Player is now available for iPad, iPad 2,  iPhone 4,  iPhone 4S, and  iPod Touch (4th Generation). Contact Lattice Technology directly for availability of iXVL Publisher.