Inventor is the first mid-range MCAD product to be supported by Collaboration Gateway. All parts, assemblies, and related data can be imported and exported.
In a move that separates Autodesk Inventor from its mid-range competitors, ITI TranscenData has added a native Autodesk Inventor interface to Proficiency Collaboration Gateway, its collaboration and interoperability solution for manufacturing. Collaboration Gateway enables the transfer of complete design intelligence between major CAD systems which includes geometry, features, sketches, manufacturing info, metadata, assembly information, and drawings in the conversion process.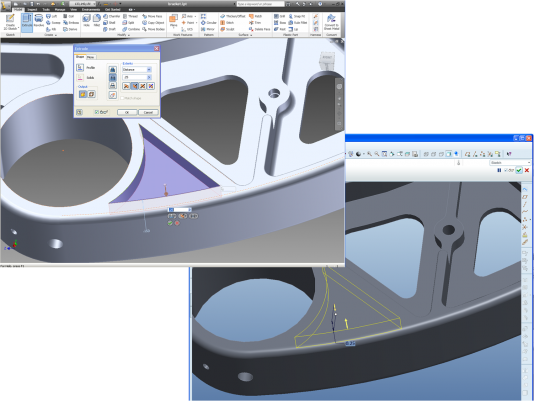 The new interface offers support for Inventor parametric assemblies and parts as well as associative drawings. ITI says it is fully integrated into the Collaboration Gateway product suite, allowing legacy data migration and OEM delivery to the users of Autodesk Inventor.
The new interface also incorporates the use of CADIQ, ITI TranscenData's CAD model quality and validation solution. CADIQ offers visualization and comparison for both assemblies and parts, as well as analysis for assemblies, and manufacturing diagnostics for parts.
Inventor is now the only mid-range MCAD product supported by Collaboration Gateway; other supported products are I-deas, NX, Pro/Engineer (now known as Creo), Catia V4 and Catia V5. Collaboration Gateway customers include the very largest names in aerospace and automotive manufacturing, including Boeing, EADS, Ford, Daimler, NASA, Siemens, and others.