Thousands gather in Dallas for a glimpse of the future at SolidWorks 2016.
By Kathleen Maher
SolidWorks users represent the largest platform of 3D modelers in the world. They're an important demographic in the digital world. SolidWorks CEO Gian Paulo Bassi opened this year's conference in Dallas telling the folks that SolidWorks is a platform, not a program. As you may notice, that's a pretty common sentiment these days. In general, it's purposely vague but usually has something to do with the cloud.
Bassi called this a new age for SolidWorks, the innovation platform, innovation being another important buzz word for 2016. What SolidWorks is really doing is building a platform for transformation.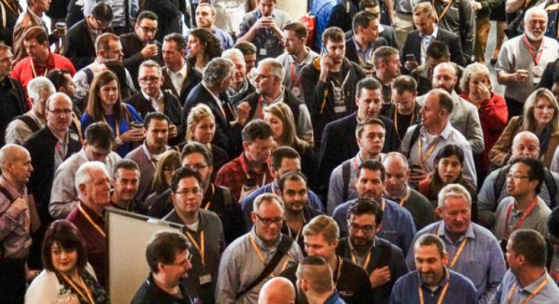 SolidWorks and its parent company, Dassault, have been faced with a delicate challenge given their entrenched customer base (and this is no less true of their competitors in the CAD industry). In the past three years or so, SolidWorks has been adding tools based on Dassault's 3D Experience for better collaboration and centralized data management, cloud-based tools, and new subscription options, but it is doing so in incremental steps.
At this year's SolidWorks World, Bassi reassured users that SolidWorks will not move to a subscription-only licensing program—even though Autodesk has embraced this option and so has Adobe. The company will continue to have perpetual licenses, which are usually sold with a maintenance subscription. Last October, with the introduction of SolidWorks 2016, the company introduced a browser-based version of SolidWorks, which the company is offering as an option to demo the software. It's based on the Frame virtualization infrastructure, which enables any software to run in a browser. At SolidWorks World, Frame introduced its own products for software professionals—the company has packaged virtualization to enable companies and individuals to access their software in the cloud.
New this year, Bassi also announced the introduction of term licenses, which will let companies license seats of software for a set amount of time and then release those licenses when they are no longer needed. Bassi said this is an option that customers have been asking for.
XWorks
Bassi also promised a new line of cloud-based products, which will run in the browser; the first are XDrive and XDesign. XDrive has already been announced; it is a cloud-based repository for SolidWorks users. More than just a Dropbox for SolidWorks users, XDrive is designed to foster collaboration with secure sharing and social collaboration. The company sees it being used for all project-related files. It will come with SolidWorks 2017 subscriptions.
XDesign is a new announcement, and it is a direct modeling tool, presumably SolidWorks' answer to competitors Autodesk Fusion 360 and the interloping Onshape, founded by SolidWorks' original founders. Both Autodesk and Onshape claim the future of design tools is in the cloud, where operating systems don't matter, overhead is cheap, access can be low cost, and collaboration comes with the territory.
Senior Director and Product Manager Kishore Boyalakuntla provided a very general overview of the new product, but as Bassi said in his introduction, XDesign will try to put the "aided" back in computer-aided design. New features include design guidance, scribble sketching, super features, and super mates. The tool can provide suggestions on how your models should be designed and even create common parts based on the user-defined parameters. In addition, eDrawings and MBD (more about that later) are included for communicating with others and to include 3D Product Manufacturing Information (PMI).
There wasn't much detail; Bassi's point is that SolidWorks intends to stay modern. XDesign is expected to be available as a beta in May. SolidWorks says product information on XDesign will be available at XDesign.solidworks.com. Right now, the only thing that is there is a signup pointless video.
The company also talked about Part Supply, a new product for SolidWorks designers based on Dassault's Exalead technology. Exalead is a big data tool that crawls the web and company networks for salient information. Part Supply can search for parts designs and offer suggestions, saving designers the drudgery of redesigning parts.
The new Xproducts are being built on Dassault 3D Experience, which is Dassault's overarching platform for all its products. The modeling engine for 3D Experience is CGM, a Catia modeler, and it is not compatible with SolidWorks, which is based on Parasolid. Dassault has announced its intention to move all its products to 3D Experience and to enable a consistent underlying technology for all of its products. That's difficult, and the company is gradually adding on products to the SolidWorks base rather than making any radical changes to the SolidWorks base technology. For example, in the last 24 months or so, SolidWorks has introduced SolidWorks Conceptual Design, SolidWorks Model Based Design, and SolidWorks Inspection.
As others a little quicker on the uptake than I am have observed, it's not just a matter of the cloud, it's a fundamental shift from the file-based architectures that most of have grown up with, to accessing data from a centralized database ensuring that data is never out of date or in the wrong place.
PCB comes to SolidWorks
When Bassi talks about a platform, he's also talking about the increasing number of products that make up the SolidWorks family and another trend in the design software field: having it all. Product developers are approaching designs in a holistic way, thanks to a variety of factors including product lifecycle management (PLM), the Internet of Things, Model-Based Design, etc. In this spirit, software designers have tried to offer some kinds of links to the electrical design of products. After all, it'd be nice if the printed circuit boards that are the souls of our products today fit into the bodies designed for them. It'd be good to know that they're in a place that's well ventilated and secure, etc.
At SolidWorks World, the company announced a partnership with PCB design company Altium to introduce PCB-Works, a set of schematic capture and PCB layout tools designed to work with SolidWorks. SolidWorks Senior Product Manager Louis Feinstein says this newest approach reunites the two main branches of CAD, product and electrical design. Feinstein said, "We've taken the Altium design package and added the SolidWorks interface." Feinstein says PCBWorks is the first tool to bring electrical design into 3D.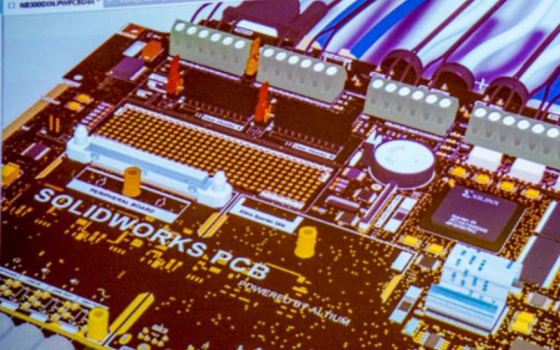 SolidWorks has taken several runs at this market, and essentially, SolidWorks has realized its best to let the electrical designers work in electrical design tools and MCAD professionals use the tools they prefer. Tools created in Altium's PCBWorks are connected to SolidWorks through the SolidWorks Connector, which enables communications between products. By maintaining a link between both worlds, products can be designed and optimized by electrical and mechanical designers working together.
Visualize is part of the program
Dassault acquired RTT in 2013, and part of the deal included the Bunkspeed renderer, which had just been acquired by RTT. Bunkspeed has been packaged as Visualize for SolidWorks users, and at this year's SolidWorks World, the company announced Visualize would be included with the SolidWorks subscription.
SolidWorks tends to waterfall its new features, which may be originally introduced into the high end and then gradually opened up to more and more users. The Bunkspeed technology is also built into Dassault flagship enterprise design product Catia as Catia Live Rendering.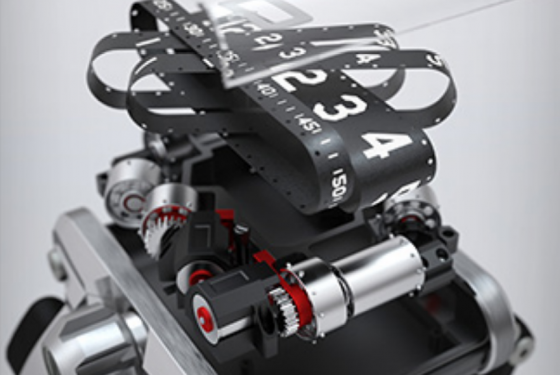 SolidWorks has had several rendering relationships including the PhotoView 360 tool for SolidWorks, which is built on Modo technology from The Foundry. The news that Visualize was going to be widely available was met with some apprehension by fans of PhotoView 360, which is lauded for its ease of use. So far, though, SolidWorks is just adding on Visualize as another rendering option. The company says it is for people who want to take a "photo" of their design.
Visualize is also being sold as a rendering product for other design tools including Alias, Rhino, SketchUp, "and many other CAD formats." Nvidia is pretty happy with the move. Bunkspeed is built on Nvidia's iRay technology and is thus optimized for Nvidia's GPUs.
SolidWorks is also promoting rendering as part of the design process, a tool that can validate design ideas before they are committed to prototype. Also, rendered models of production designs can be delivered to marketing earlier, speeding up the concept to design to market pipeline.
Model-based design
The other great shift changing the design world is the movement to model-based design (MBD). In short, MBD means the model is the central repository for all data associated with a project. SolidWorks MBD is a tool to let customers package critical design and manufacture information including the PMI (product manufacturing information) in a 3D model with data. The MBD tool enables the creation of 3D PMI using industry standard file formats including SolidWorks, eDrawings, and 3D PDF.
There is a major drive to support the shift to MBD; government organizations are supporting it. MBD standards are defined by military-standard-31000A, ASME Y14.41, ISO 16792, and DIN ISO 16792. SolidWorks Global Product Manager Oboe Wu says these standards have started the snowball down the hill with adoption by Japan Electrics and Information Technology Association (JEITA) and Japanese Industrial Standards (JIS) and private adoption by influential companies such GE.
And then there are the users. At the heart of MBD is a drawing-free world, but on the way to that happy day, Wu says users can always print out the view they need of the model-based design. He concedes that sometimes people don't want expensive iPads down on the shop floor, or they like the idea of a print they can carry around, crumple up, and stuff in a back pocket. In the long run, though, Wu says paper-based drawings are holding back the progress of 3D modeling.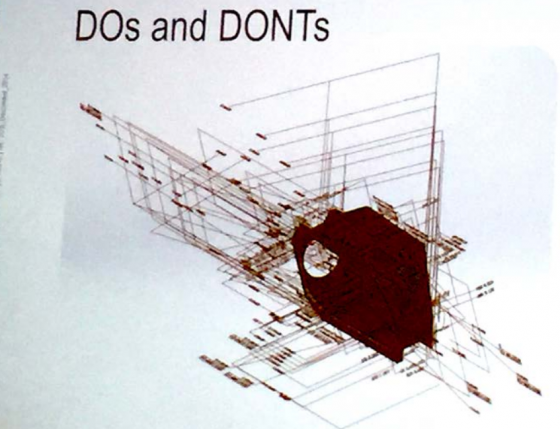 There's always resistance. SolidWorks says that in 2009 when they surveyed customers about the need for a product like MBD, only 1.5% of SolidWorks customers said they'd be interested. In 2015, that number increased to over 20%, and they're seeing the trend turn more quickly.
As SolidWorks presented its MBD tools, the presenters conceded that there are still some challenges for how to present the data in ways that are immediately understandable and still complete. What do you include in the MBD? Everything is available with today's data management tools, but a model with too much information is as useless as a document with not enough information. SolidWorks is experimenting with different ways to present the data.
On a side note, we also visited with the Tetra4D team on the show floor. A spinout of 3D PDF licensing company TechSoft, Tetra4D creates authoring tools for MBD. The company is making the presentation of information in ways that are relevant and immediately useful part of their advantage. Another company working on this front is Anark. It too can enable users to create work files for distribution using 3D PDF. MBD is an important trend, and 3D PDF is emerging as a common standard—that's one end. Considering that complex projects include participants using multiple tools, the challenge may actually be on the other end—bringing in disparate data to display required information in a meaningful way.
What do we think?
As we have observed before in the competition among SolidWorks, Autodesk, Onshape and others, Autodesk can afford to rock the boat, the company's Inventor is an also-ran compared to SolidWorks. Autodesk has never had a full-fledged file-based PLM product to defend—it leaped into the field with a cloud-based product. Autodesk has clearly stated its future is in the cloud. Onshape, like Venus rising from the sea, has no entanglements, just a strong fan base and yards of cred. SolidWorks is aided by its powerful parent, Dassault, which dominates the enterprise in manufacture and design and has broken the $3 billion mark in revenue for its products including SolidWorks.
SolidWorks can easily afford to take its time, but it's important for the company to show it sees a shining path to modernity so its customers don't get distracted by shiny things along the way.