All vendors enjoyed increased sales.
The GPU market seems to have found its new normal, along with the PC market it serves. For all of 2015 total GPU shipments decreased 14% but in the fourth quarter they were up 2.4%. According to a new market research report from Jon Peddie Research, the gaming PC segment drove most of the increase in the fourth quarter.
Overall year-to-year total GPU shipments decreased 14%, desktop graphics decreased 9%, notebooks decreased 17%. The fourth quarter is typically flat to up, sequentially. For 2015, the fourth quarter was sequentially up 2.4% above the ten-year average of -3.4%.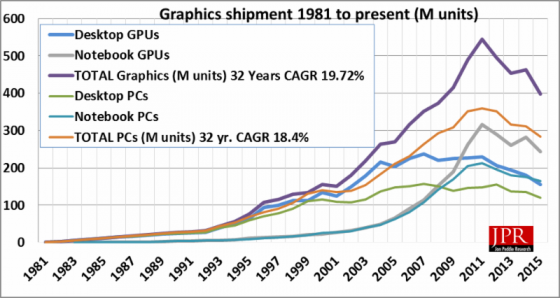 Graphics processors, stand-alone discrete devices, and embedded processor-based GPUs are ubiquitous and essential components in all systems and device today from handheld mobile devices, PCs, and workstations, to TVs, servers, vehicle systems, signage, game consoles, medical equipment, and wearables. New technologies and semiconductor manufacturing processes are taking advantage of the ability of GPU power to scale. The GPU drives the screen of every device we encounter-it is the human-machine interface.
Highlights from the fourth quarter:
AMD overall unit shipments increased 5.16% quarter-to-quarter, Intel total shipments increased 0.73% from last quarter, and

Nvidia

shipments increased 8.41%.

The attach rate of GPUs (includes integrated and discrete GPUs) to PCs for the quarter was 139% which was up 0.59% from last quarter.

Discrete GPUs were in 31.28% of PCs, which is up 1.34%.

The overall PC market increased 2.01% quarter-to-quarter, and fell 10.27% year-to-year.

Desktop graphics add-in boards (AIBs) that use discrete GPUs decreased 4.87% from last quarter.
| | | | | |
| --- | --- | --- | --- | --- |
| Supplier | This Qtr Market Share | Last Qtr Share | Qtr-Qtr Market Share | Last Year Share Change |
| AMD | 11.8% | 11.5% | 0.3% | -1.9% |
| Intel | 71.6% | 72.8% | -1.2% | 0.2% |
| Nvidia | 16.6% | 15.7% | 0.9% | 1.6% |
| Others | 0.0% | 0.0% | 0.0% | 0.0% |
Total Graphics chips market shares chart.
Seasonally, Q4 tends to be a little higher the previous quarter. In 2008, there was a sharp decline, which was an aberration caused in line with the massive market decline of that period. The market seems to have settled back into its rhythmic seasonal cycle, says the JPR market report.
Although neither AMD nor Nvidia introduced new GPUs in the second half in 2015, the chips they did introduce in Q1 and Q2 2015 were solid performers. That, combined with the introduction of a half dozen really terrific, and processor-intensive games in the second half of 2014 fed a buying frenzy that drove the GPU sales in desktop add-in boards (AIBs) and the new gaming notebook sales in Q4.
Most of the PC vendors are guiding cautiously for Q1'16. That is consistent with the shipments we have seen in Q4'15 and also with seasonal trends.
More information: https://www.jonpeddie.com/press-releases/details/for-the-4th-quarter-of-2015-gpu-shipments-increased-2.4-from-last-quarter