PTC is developing easy-to-use AR authoring tools to enable customers to quickly link text, animations, models, and assemblies to real world objects via ThingMarks.
PTC has been taking its Vuforia technology out on the road quite a bit over the last few months starting with the
February Thing Event in Boston
to celebrate the integration of Vuforia's technology with that of PTC. At that event, PTC showed off the ways in which Vuforia could be used to give customers insight and information using mobile devices such as tablets or in a hands-free way using AR glasses. The company showed off a new design for creating AR targets and it talked about its development of Vuforia Studio Enterprise to enable companies to author and publish AR applications. At this year's LiveWorx PTC user group conference, PTC showed off its new AR ecosystem to its user base.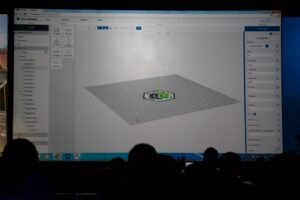 Vuforia Studio Enterprise is being integrated into PTC's Creo 3D CAD visualization and illustration software, and also PTC's ThingWorx IoT platform so that customers can add AR to connected products including machines on the factory floor, tractors and trucks in the field, solar panels, and medical devices. Illustration tools enable developers building AR apps to add simple animations that might be used to show service personnel how to approach a repair job.
The company says Vuforia Studio is available as part of the Vuforia Studio Pilot Program. In demonstrations, Vuforia Studio seemed very easy to use to link visual and text data to AR targets, which PTC calls ThingMarks. Support for Creo CAD design data to be used thus building a link between the CAD model and the real-world expression of that model.
The ThingWorx connection enables users to access information from sensors and add that information to the data accessible via AR. For instance, information such as temperature, operating speed, fluid levels, etc. can be added as virtual gauges so operators can see what's going on.
Vuforia Studio has multiple tools that reflect the complexity of real-world situations. Customers can build multiple experiences and put them in the cloud via the Vuforia Experience Service. The Vuforia View is an app that scans and recognizes ThingMarks and prompts the user to select the appropriate experience.
Vuforia Studio is being rolled out in a pilot program and the company says they will have information about general availability later this year.