IXOD reads all major file formats, allowing inspection editors to standardize on one workflow even if multiple CAD formats are involved.
CAD tools specialist KeyToData introduces a new tool for creating inspection documents from 2D or 3D CAD files. Standardizing on Inspection Xpert On Demand for CAD (IXOD) would allow end users who need to create inspection packages to can save time by using the same workflow regardless of the source files.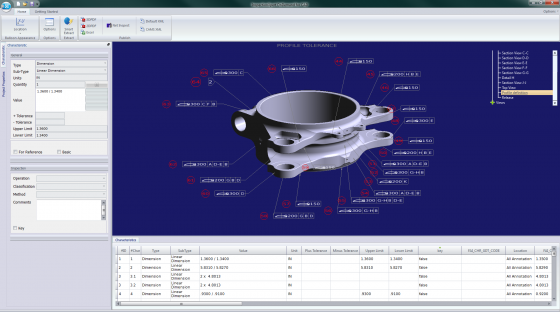 Key highlights of InspectionXpert OnDemand for CAD:
Does not require a CAD license to view, balloon, and extract inspection data for reporting
Supports both 3D Model-based definition (MBD) and traditional 2D print-based inspection planning
Create 3D and 2D PDFs from CAD models
Support new DOD Model Based Definition (MBD) standards
Standardize MBD inspection plans in your supply chain.
Manufacturers, job shops, and OEMs often use a variety of CAD programs to generate or view 2D prints and 3D models for manufacturing.  Creating quality inspection documents, such as first articles or in-process inspection reports, is still primarily a manual, error-prone and time-consuming process and often involves having to purchase CAD licenses or generating completely new CAD documents for inspection. Using IXOD would allow quality departments to view native CAD files—including CATIA v5 2D or 3D, CATIA V6, and .dwg files—using InspectionXpert, without having to purchase a CATIA or other CAD license.  Support for additional CAD formats including NX, Creo/ProEngineer, Solid Edge, Inventor, Step, JT and DXF will be offered in the coming months.
What do we think?
Support for model-based definition standards means KeyToData has its eye on the future as well as the present. Suppliers who want a CAD-neutral approach to quality management could benefit from this product.