Sometimes, you just gotta have metal; the ProX 400 should debut to high demand.
3D Systems is introducing its latest industrial direct metal printing (DMP) system, the ProX 400. Designed for creating high-quality end-use metal parts, the ProX 400 can create parts up to 500 X 500 X 500 mm3 (19 11/16 inches each dimension) without the complexity of multi-step machining or the time and expense of tooling.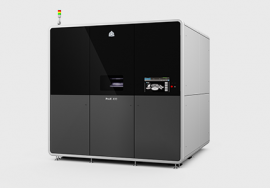 The ProX 400 can print in more than a dozen alloys, including stainless steel, aluminum, cobalt chrome, titanium, and maraging steel. This material selection, along with the enlarged print volume, means the ProX 400 is ready for whatever you can throw at it. The ProX 400 also ramps up the speed of industrial-grade metal 3D printing with a two-laser system; 3D Systems says the ProX 400 increases throughput with a modular design which can turnaround print jobs in a little as 15 minutes.
The company says the ProX 400 also offers simple, automated post-processing and material recycling features.
The ProX 400 will be presented at EuroMold 2014 in Frankfurt, Germany, November 25-28, 2014. Commercial availability of the ProX 400 will be announced at a future date.
What do we think?
Hobbyist 3D printers are but a rounding error in the revenue column for 3D printing companies compared to the industrial market. Direct metal printers, more than other 3D printing technology, define the commercial and industrial future of 3D printing. As amazing as modern plastics and composites have become, sometimes you just gotta have metal.
Printers like the ProX 400 can make lightweight aerospace parts that are simpler, require fewer assembly steps and offer better reliability. Manufacturers can create geometrically complex parts which could never be cast or machined. Medical device makers can print bio-compatible, patient-specific surgical implants in a manner that is scalable and cost efficient.
Given recent trends in 3D printing, the ProX 400 should debut to high demand.