The open source, CAD-neutral Product Lifecycle Management platform runs through a browser, and has Microsoft SQL Server 2013 on the back end.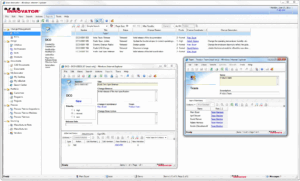 Aras of Andover, Massachusetts stands out among its competition in the CAD market by virtue of being a stand-alone PLM company that doesn't have its own CAD tools and it is open source (as spelled out by the OSI license). With this version, Aras brings Innovator up to date with HTML5. Users will see a new HTML5 browser interface and an Office 13-style design.
Other highlights of this latest release includes scalability. The company says it can scale to over 100,000 users on Microsoft SQL Server 2012. In addition Aras has tightened up the product's code base resulting in a faster, more efficient product.
Most of Aras' users are non-CAD based says Aras president Peter Schroer. In fact, he notes often 80%-90% of the people using PLM are not CAD users and the companies usually have several CAD programs in use. Schroer says "our companies have gone very lateral with PLM," meaning the data in design files are being used across company departments. The advantage of a browser-based PLM system, Aras executives argue, is that it's a familiar and neutral environment for all users, and it scales to mobile.
As an added tool for users, Aras has announced the MultiCAD Gateway introduced by Aras partner Elysium. The MultiCAD gateway automates the conversion of CAD data to other native CAD formats including NX, Creo, SolidWorks, and others.
What do we think?
Aras counts GE, GETRAG, Hitachi, Hoda, Motorola, TEVA Pharmaceuticals, Textron, and Xerox among its customers. The company notes that at its founding in early 2000, most of the company's customers were SMBs struggling with the complex task of setting up a Lifecycle Management system. Now, they have a solid base of enterprise customers who have responded to the company's message of ease of use and are happy to pay for services and customization. In addition the company is building an ecosystem around its open source model with partners who provide hosting, add-on products, support, systems integration, and training.