A partnership between Elysium and Moldex3D results in one software product showing off the best of both companies.
A partnership between CAD translation specialist Elysium and mold design expert Moldex3D has led to Moldex3D CADdoctor, new geometry repair software that combines multi-CAD data transfer, geometry quality verification, and model simplification.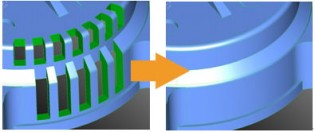 Proving the quality of a mesh generated from a CAD model is an important step in the plastic mold design process. Besides using mesh generation technologies, a geometry healing tool is usually needed to check and fix geometry defects in a CAD model. CADdoctor combines tasks usually accomplished in three separate software products into one new solution, with the additional benefit of being embedded into Moldex3D Designer.
An example is shown below. Several free edges are detected in a geometric model that has been converted through numerous different CAD systems and finally imported into Moldex3D Designer. The CADdoctor auto-repair function identifies and heals imperfections. All the free edges are fixed, and the model is ready for mesh generation in order to run an accurate mold-filling assessment.

What do we think?
Geometry repairs play a huge role in mesh quality. Mold desgners need to simplify elements of a model unnecessary for mold generation, and they need to repair geometry errors that creep in because of translation issue or poor modeling work in the original. If a complex CAD model receives adequate geometry pre-processing, meshing creation becomes more efficient.
Taiwan-based Moldex3D has become a leader in plastic mold injection software. But all the major 3D CAD modeling products are used in this industry, and Moldex3D has to support them all. Working with Elysium, a translation specialist, has helped Moldex3D take a faster path to improving its product line.