Autodesk acquires Circuits.io after introducing 123D Circuits in September 2013.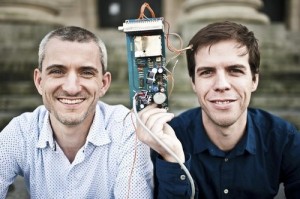 Just a few days ago Autodesk announced the acquisition of Circuits.io a Belgian start-up for the maker community. We were still in the early phases of really, who, why? Then  we remembered that Autodesk had announced a relationship with the tinkerers of Belgium who have been building a community around electrical design. The result of relationship resulted in 123D Circuits, Autodesk's free design tool for electrical design. The Circuits.io community shares design ideas and models for electrical designs and it's a trading post for buying and selling. People in the community can download designs and tweak them, they can order PCBs, or download Gerber files.
The half dozen or so employees of Circuit.io, including founders Benjamin Schrauwen and Karel Bruneel, will join Autodesk and move to San Francisco. Autodesk is all over community, open source, sharing and re-use. The company emphasized this in its executive keynotes at Autodesk University held in Las Vegas at the end of 2013, and it played out with the unveiling of new open source tools and community products initiatives including the new CAM 360 product, which enables and fosters design collaboration across companies.
The acquisition of Circuits.io and introduction of 123D Circuits is consistent with Autodesk's direction and helps bring in a wider swath of makers and inventors. Autodesk says it will migrate the Circuits.io members into the Autodesk 123D community, and as a matter of fact, the "migrate your old account" button is already active. All Circuits.io account holders will receive 123D Circuits Premium Memberships. The Circuits.io model offered upgraded accounts for $12 and $25 per month. Autodesk's 123D Circuits Premium accounts are $9.99 per month and include discounts on purchases, access to premium designs, the choice to share or keep designs private, free 2D print outs, and added goodies.
Instructables friendly
Autodesk says it already has a "large and passionate community" of electronics-focused users, with over 2000 entries on Instructables.com using Arduino and circuitry-based projects. Designs created in 123D Circuits can be easily embedded into personal blogs and be used to create an Instructable.
Autodesk's Samir Hanna, VP of Autodesk's Consumer Group, says the deal is part of Autodesk's interest in getting involved with the opportunities enabled by "affordable, programmable microprocessors like the Arduino, paired with components like sensors and input/output boards.  Autodesk says their 123D Circuits community now boasts 30,000 users.
What do we think?
Well, granted, electrical design is not all that graphics heavy (though we've seen utterly beautiful designs), and there's not much 3D about it, but putting it in many people's hands is decidedly cool and that's good enough for us. EDA for the masses is great. It's going to teach people how things work, how to design electrical components, and will educate them on what they need in professional EDA tools. The growing open source and maker communities are going to change the world and help us all understand what's going on around us a lot better. It's also going to open up new product design with electrical components for individuals and small companies.