From introducing recent acquisition ThingWorx to buying a systems engineering specialist, PTC wants its users to think big about making the new world of smart, connected products.
PTC continues to distinguish itself from its PLM peers at this week's Planet PTC conference with a push beyond product engineering and design into services. There are new versions of PTC's two flagship CAD products, but most of the company's focus is on introducing customers to its Internet of Things (IoT) initiatives.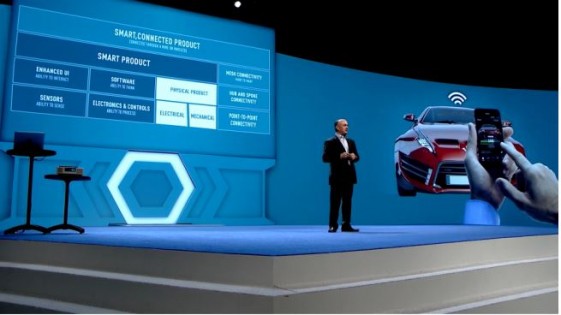 As explained by CEO James Heppelmann, PTC sees the rise of a smart, connected world filled with products that create new opportunities for manufacturers in services and operations. "We are in the early days of a massive wave of innovation" regarding a smart, connected world. But most of the world doesn't get the Internet of Things, says Heppelmann, because most people focus on the Internet and not the Things. "The Internet isn't changing, the things are changing," says Heppelmann. Manufacturers—the people who create, operate, and service things—have tremendous opportunities available as products acquire new capabilities and value.
PTC intends to provide new products that help manufacturers exploit four capabilities becoming possible in the IoT (shown with examples as explained by Heppelmann):
Monitor the product: use data from a pacemaker to report a patient's heart condition;
Control the product: configure oil wells from a distance to adjust for changing conditions;
Optimize the product: Provide more horsepower to a tractor engine based on changing load factors;
Automate the product: Provide new abilities with sophisticated algorithms that can autonomously respond to conditions, such as a robotic tuna under development that can be used to monitor the ocean.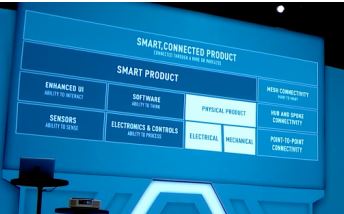 This is the first PTC user conference since it made its major acquisition into the IoT by buying ThingWorx on December 30, 2014. Existing ThingWorx customers are on the agenda all week to help explain PTC's big push into this field. Heppelmann says PTC paid $115 million for ThingWorx because it was the technology leader in this fast-moving space. (For background on the PTC acquisition, see "PTC buys its way into the Internet of Things for $115 million.")
Part of the shift into smart, connected products requires manufacturers to think about systems engineering on a new scale. If a simple device is wirelessly connected in swarm fashion (many-to-many) to thousands of similar devices (such as solar panels on a large array, or sprinklers in a large irrigation project), and all can share and respond to data from their peers, the demand this makes on the initial engineering increases substantially. On Monday at the conference PTC announced the acquisition of UK-based systems engineering software developer Atego for $50 million. The company's Model-Based Systems Engineering solution connects requirements engineering, architecture modeling, physical product definition, and system verification functions. PTC says the software will help its customers "drive efficiencies and process standardization, allowing distributed teams to collaboratively build digital models of complex systems."
Creo turns 3 and 19
On Monday PTC introduced the third release of Creo, the 3D parametric CAD platform that replaced the legendary Pro/Engineer. It also introduced what it calls version 19.0 of Creo Elements/Direct, the successor to direct editing 3D CAD product CoCreate. The difference in version numbers exists because Creo is a new platform (now at version 3), but the individual products (or apps, as PTC likes to call them, even though most are only for the desktop) continue on, renamed and re-engineered for the Creo era.
Creo Parametric and Creo Direct feature new interoperability in the form of Unite technology, which PTC says allows the software to read in and directly work with 3D models created in a wide range of competing products. Once read in by Unite, the models can be worked on directly in Creo apps Parametric, Direct, Simulate, and Options Modeler. SolidWorks, Catia, and NX files can be opened directly or imported; Inventor and Solid Edge files can be imported.
Other features in the new releases include:
Align Freestyle (in Creo Parametric) allows designers to drive freeform designs parametrically, "combining organic geometry creation and modification with associative parametric design intent";
Improvements to 2D concept engineering in Creo Layout;
Ease-of-use improvements in Creo Direct for initial 3D modeling that can be imported in to Creo Parametric;
A new feature in Creo Parametric called Design Exploration Extension, used to develop design alternatives and to investigate the consequences of design changes. PTC says it "significantly reduces the current level of manual effort and overhead required to undertake these activities."
Planet PTC continues in Boston through Thursday.