A special discount is available to GraphicSpeak readers.
Jon Peddie Research (publisher of GraphicSpeak) is pleased to again be a media partner for Immersed 2017. Celebrating its fourth year at the Ontario Science Centre in Toronto, Immersed 2017 (October 19-22) is the East Coast's must-attend event for industry and professionals working with technologies like virtual reality, mixed reality, augmented reality, stereoscopic 3D, and more.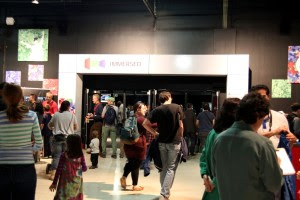 This professional event includes technical training, valuable market discussion, a networking reception, meals, and a private business to business exhibition. Toronto is the fourth largest city in North America and is an important international center of media and content development.
Previous Immersed event speakers and/or sponsors have included AMD, Nvidia, Lucasfilm, HTC, SideFX, Sony PlayStation, Starbreeze Studios, Space Channel, Discovery Channel Canada, Tom's Hardware, Jon Peddie Research, and many more.
GraphicSpeak readers can use the discount code "JPR_Immersed2017" to save $100 on full access ticket registration.  Learn more at http://www.getimmersed.com.