Pixomondo created the babies, growing in capabilities as the dragons grow in stature.
HBO's Game of Thrones is popular for many reasons, most of them beyond the scope of our coverage here. But some of the appeal surely lies in the realistic visual effects that give mythic realism to the unfolding story of endless battles among the seven kingdoms.
Computer graphics special effects house Pixomondo has been on the show since Season 2, when there were the only CG vendor on the show. In Season 2 Pixomondo worked on matte paintings, set extensions, wolves, and more for all ten episodes. As the show grew in epic scale in Season 3, other CG studios have also been enlisted. Pixomondo became solely responsible for three of the show's most popular character: the dragons Rhaegal, Viserion and the hulking, black-scaled Drogon.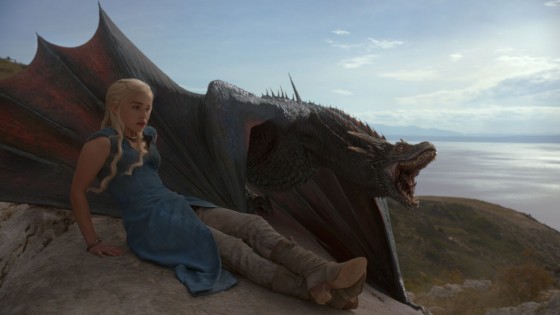 "The dragons started out as kitten-sized babies, then they grew to children, then teenagers – they've just become bigger and bigger," says Sven Martin, Pixomondo visual effects supervisor. "With that increase in size – and they really are big this year – there's much more screen space to cover, and that demands a much greater degree of complexity."
Rhaegal, Viserion and the hulking, black-scaled Drogon are huge in Season 5, casting dominating shadows across the lands of Meereen and Old Valyria. They also get up close and personal with Khaleesi Daenerys Targaryen, in screen time that demands computational horsepower on a level not previously used in the show.
"We've got a lot of close-ups of the dragons, especially when they're coming into contact with Daenerys, meaning the facial performance has had to become much more evolved," says Martin of the creatures. "We've really had to refine our facial rig a great deal."
"Having these digital creatures so close to the camera meant a total rebuild of the textures," he adds. "For this season, all of the individual scales were modelled individually and then attached to the surface itself, meaning the animators could move the skin without them deforming. Overall these kind of enhancements have been huge – in season four we had about 74 textures for the whole dragon. In season five we're at about 740."
Across the Narrow Sea
Pixomondo team members are scattered around the globe: Germany, Los Angeles and on GoT locations in Northern Ireland, Spain and Croatia. "When working on the same project from different parts of the world like this, it's important to be connected, and have everyone on the same page – or frame," says Viktorija Ogureckaja, Pixomondo visual effects producer. The team uses Cospective CineSync Pro, designed for synchronized video review and approval by disperse teams. "With cineSync, the sessions have helped to make things so much more efficient," says Ogureckaja. Hundreds or thousands of miles often separate team members, yet "being able to talk about the same material right in front of us – it makes it feel like they're just a room away."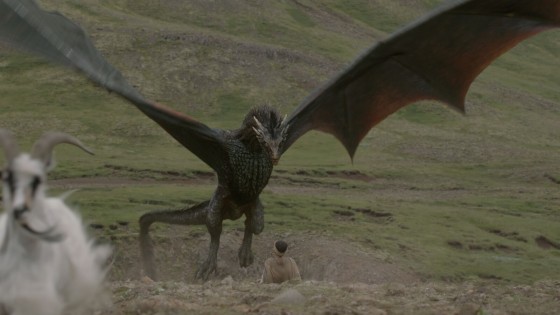 As Sven Martin explains, the visual nature and interactivity of the software is essential. Wordy, lengthy descriptions simply won't do the trick – especially not on the strict deadlines of an episodic television show. "Not only is writing insufficient to demonstrate abstract ideas, but descriptions in the form of an email would take a lot of time to explain your ideas in an understandable way – and there's the potential of losing time due to the time zone difference, especially if questions arise," he explains. "This is where cineSync and features like annotations become very handy – a certain dragon pose might not be working, and you can immediately react on it and say 'change the tail to this side', and so on. It really is like sitting together at one table and drawing with pen on paper."
"We often prepare close-up turntable renders of the different elements that make up the dragons, which we can then use in a cineSync session for discussions," says Martin. "For example, we might want to judge the subsurface scattering of certain skin parts of the inner mouth. To see that you have to work with moving images, so the turntables come in really helpful – you can shuttle back and forth to see how the light is reacting through the textures and appearing on the final dragon.