More than 150,000 mechanical engineers and designers are now using GrabCAD regularly to share, collaborate, and seek work.
Engineering design community GrabCAD has released a new iPad app for its users, giving the 150,000 members a new way to share models, participate in joint projects, and seek new work. The app is free to download and use, as is GrabCAD membership.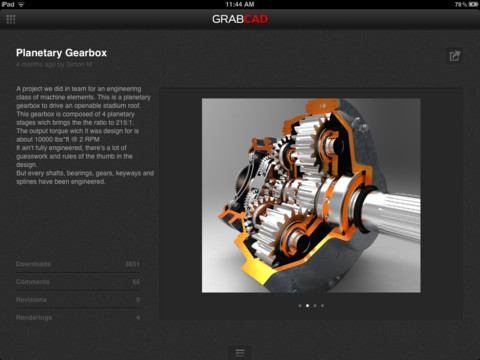 According to CEO Hardi Meybaum, GrabCAD added the most-used web features into the iPad app. Users can discover new models, and then dive into model pages to access more in-depth and real-time information. Once on a model page, GrabCAD users can see the comments and conversation about the model as well as track model analytics (number of downloads, comments, revisions and renderings). Users can quickly scroll through all available renderings using iPad gesture commands.
Sharing is also integrated into the app, making it a one-stop process to tweet the model, share it on Facebook, or email it to contractors or co-workers. Users can also open the corresponding model's page directly on the GrabCAD site.
More information is available on the GrabCAD blog or the GrabCAD iTunes page.