Multi-product workflows and extreme 3D detail drive this year's updates.
By Kathleen Maher
The entertainment industry is fundamentally changing. It has been for a long time but it's become more obvious with several huge industry shifts in the game, movie, and TV industries. The content is changing and the way content is made is changing.
Autodesk's Carl Bass says that that new business models are changing the way people do business across the board. He told the press at a recent presentation at Autodesk headquarters in San Francisco the changes happening as a result of cloud computing and social networking are causing "a fundamental shift in the way people are going to do their jobs." He went on to say it is the most important shift to happen since companies moved from client/server, from glass houses, and into networking and collaboration.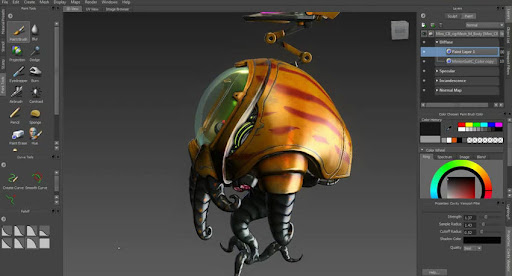 The shift in Media & Entertainment
Autodesk has three very strong 3D modeling and animation programs: 3ds Max, Maya, and Softimage XSI. The company has primarily looked at these products as silos but their customers often use them in various workflow combinations. When Autodesk first introduced the suites, customers were asked to choose either Max or Maya as the centerpiece of the suite. Those who opted for the Premium version got Softimage as well. But many customers wanted both Max and Maya and asked for ways to sign up across products. In response, Autodesk has added the Autodesk Entertainment Creation Suite Ultimate edition, which includes Max and Maya 2013, Softimage 2013, Mudbox 2013, and MotionBuilder 2013. All of Autodesk's Entertainment Creation Suites now include SketchBook Designer 2013.

When introducing the new suites to press and analysts at Autodesk's Media Day, M&E Senior Vice President Marc Petit remarked on the maturity of the products. "It's not about flashy technology as it has been before, it's about processes."
One of the big highlights of Autodesk's new developments is live character streaming between MotionBuilder and Maya which enables animators to see how their rigs will work before transferring data between applications. For instance, Petit points out, the capability can be used on the set as the director works with actors to block out a scene or even capture motions for takes.
Autodesk has also added more interface features such as consistent hotkeys so that people can work between the programs more naturally. There are hotkeys that make it easier for people familiar with Maya to use the viewports in other applications and take advantage of similar hotkeys in 3ds Max and Softimage. Likewise, Autodesk has made the F-Curve (Function Curve) in 3ds Max, Maya, Softimage, and MotionBuilder more consistent. Autodesk has put a lot of effort into improving the interoperability of its 3D programs. Transferring 3D data between Max and Maya is one step. HumanIK is now interoperable with 3ds Max CAT (character animation toolkit) providing roundtrip workflow for Max CAT bipedal characters between Max, Maya, and MotionBuilder.
For situations where customers are using Max, Maya, MotionBuilder, Softimage, and other tools Maya becomes the central point. The reasoning is that in many workflows, especially those for movie production, post, and video, Maya is often a constant. Autodesk has steadily worked to increase the capabilities of its FBX format as a standard. They realized that to support all the different capabilities of their portfolio, they needed to create a centralized data model that is external to the products. That means it can work with products other than Autodesk's as well. The tactic is similar to that of the other major exchange formats for entertainment content, Collada and Alembic. The Alembic project is an intra-industry team led by Sony and ILM, and Autodesk has offered FBX as a subset of the Alembic toolset. It's a big problem that gets more difficult as users try to stretch the tools to do more. The latest versions of Autodesk's software have improved support for Alembic exchange.
The Collada group of Khronos has had to step back to assess what members need fixed first to better direct their resources. It is possible Alembic is running into the same headwinds. It could well be that the people using these tools are going to have to continue building their own tools that address their specific workflows. Perhaps it's not a problem that can be standardized and therefore addressed with one fix. However, Autodesk figures that they understand the problem a little better than most because they have so many different programs under one roof. Autodesk says FBX is easier to use than proprietary systems because they can insure that everything is kept up to date including support for plug-ins.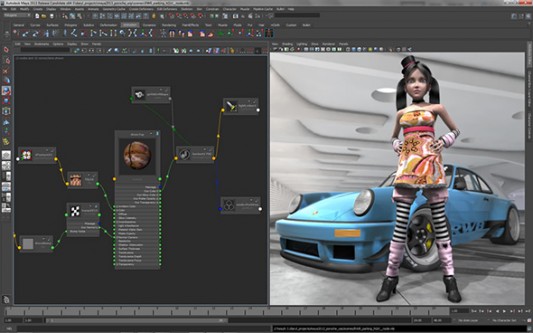 New partners
2013 is going to be the year of partnerships for Autodesk. The company has already announced a deal with Nintendo in which the game developer will license Autodesk's new Gameware tools as a part of the company's development kit for content for the new Wii.
The relationship between Autodesk and Mental Images has been a marriage of convenience rather than true love. Mental Images could provide rendering to Autodesk cheaper and more efficiently than Autodesk could develop it in its own products. However, that doesn't mean Autodesk loved it. Nvidia has brought the Mental Images team in house and has done more to optimize the software to work with its products. One side effect of Nvidia's move has been a tighter partnership between Nvidia and Autodesk. The new 3ds Max 2013 has ActiveShade support for Nvidia's iRay renderer and a new render pass system.
Autodesk has also struck up a friendship with Adobe, something the company probably should have done quite a while ago. Maxon has had a partnership with Adobe for After Effects and Photoshop for several years and as a result they have increased the use of Maxon 4D in advertising. It seems Autodesk has finally gotten the message because with this release it has added improved interoperability between After Effects and Photoshop.
It's all in the clouds
There's nothing earth shatteringly new here. The company has been talking about its commitment to new forms of computing for years now. It's been restlessly looking for the technologies that pose an existential threat to Autodesk and it adopts them. And it's not like Autodesk's competitors haven't gotten the idea as well. They are all looking at the consumer with absolute longing.
One advantage that Autodesk seems to have is a better idea about the entertainment industry. It's been helping the entertainment dream machines build content so the company might have a little bit better idea about seducing and entertaining than some of its competitors who have been working more on the manufacturing and architecture side.