The search giant proposes the specs for AR glasses. How fast can they come to market?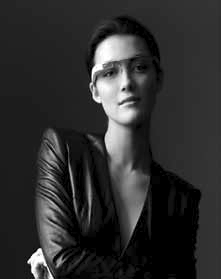 By Jon Peddie
Have you ever longed for X-ray vision to look inside buildings and automobiles? Well then augmented reality (AR) is what you've been waiting for, and Google wants to have a conversation with you.
Google is not the first company to come up with the idea of augmented reality glasses, but the UI associated with them (illustrated in the Project Glass video on YouTube) is unique, and combined with Google's consumer reach could bring them to masses. The UI is on top of the wearer's field of vision; there are icons, alerts, directional arrows, and other visual cues that inform, warn, or beg response.
Response seems to be verbal and button-pushing on the top (for picture taking as an example)—they let technology get out of your way. If you want to take a picture you don't have to reach into your pocket and take out your phone; just press a button at the top of the glasses and that's it—who hasn't wanted that?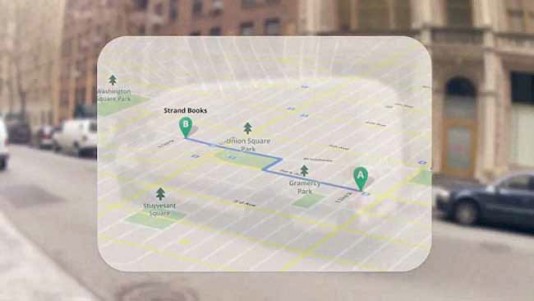 Google is also exploring different designs for the glasses, including some that could fit over your existing glasses, reports the New York Times. Glass is the second big project out of Google X, the company's Mountain View skunk works. When Larry Page reassumed the role of CEO last year, his fellow co-founder Sergey Brin decided to concentrate on Google X and Project Glass.
Promises promises
Brin promised news of Glass almost a year ago at Google I/O conference and it has been in the works years before that with key input from Babak Amir Parviz, a Google X employee who is still listed as the McMorrow Innovation Associate Professor at the University of Washington.
"We're sharing this information now because we want to start a conversation and learn from your valuable input," Google's Parviz, Steve Lee, and Sebastian Thrun wrote on a new Google+ page for the project. "So we took a few design photos to show what this technology could look like and created a video to demonstrate what it might enable you to do."
Seeing what isn't really there Augmented Reality (AR) is about artificial information on the environment and its objects that can be overlaid on the real world. The term augmented reality is believed to have been coined in 1990 by Thomas Caudell at Boeing.
The physical apparatus has been the obstacle for the past twenty years, and only in the last year have we had small enough sensors and new screen technologies that make a practical viewing/capturing prosthetic possible and attractive to the masses. The idea of putting a small sensor on glasses has been suggested several times.
From lab to market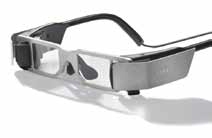 Getting from the lab to market is still a challenge and several concept devices have been shown. And although they worked reasonably well, consumer level prices points couldn't be reached. At CES 2012 Lumus showed their Lumus DK-32 display glasses that used an optical engine to project the light on to the lens which is then reflected on to the eye of the wearer through reflectors which are embedded in the lens.
Vuzix isn't new to the whole augmented reality game; they've been showing off prototype goggles since 2009's CES, and have been showing the previous version, the Wrap 920. The Wrap 920ARshown at CES in 2010 was the first pair of AR goggles of its kind to use 3D.

At CES 2012 Vuzix showed a new range of Smart Glasses which featured integrated HD displays, using technology from Nokia.
Japanese mobile giant NTT DoCoMo has also demonstrated an augmented reality mapping system that attaches directly to your lenses. AR Walker uses a gyroscopic sensor to determine which direction your head is facing and relays pertinent information to you through a tiny display screen in front of your right eye. Look up and get a weather report, look left and right to get info about restaurants and shops, look ahead to get directions to where you want to go. The augmented reality device is powered via a smart phone with GPS that hangs around your neck.
The AR Walker system was shown in October 2010 at Ceatac in Japan. The system, designed in partnership by Olympus and NTT DoCoMo, allows the user to see the real world without running the feed through a camera and video display. Weighing just 20g, it can be used with regular glasses. And the ultimate device will be one you pop into (or maybe have surgically implanted) your eye.
Professor Steve Feiner teaches a class on AR each spring at Columbia University, "Contact lenses? Yep, it will happen. It's very delicate and there are lots of problems including radiation to your eyeball and how people are going to be able to see a sharp image so close to their retina rather than a wash of color. It's hard but it will be doable."
"We're 80% of the way there with AR but the last 20% is going to be hard," said Prof. Blair MacIntyre, director of Augmented Environments Lab, Georgia Institute of Technology.
Not just for outdoors
There's plenty of discussion today about the second and third screen. Neilson reported that up to 88% of US tablet owners and 86% of US smartphone owners use their device at least once a month while watching TV. Some (26%) use their tablet in front of the TV several times each day. In the UK, the trend mirrors the US with 80% of tablet owners and 78% of smartphone owners relaxing with their mobile device at least once a month while gazing at the TV. Only 24% admit to using their device while watching TV several times each day.
What if we had AR devices and could look at the TV and call up information about the actors, products, and associated information—without taking our attention away from the screen (to look down at another screen)? What if we wore AR glasses that were passive S3D lenses also? So then you could watch the big S3D screen with friends and family, and when you were alone, you make your AR glasses into a personal S3D display.
MicroPCTalk forum member "fiveseven808" decided to take matters into his own hands, and in 2009 he hacked together a wearable computer with the eyepiece from a Myvu Crystal, a Sony UMPC and a Motorola iDEN i425 for cheap, always-on connectivity.
The Myvu Crystal donated one of its 640 x 480 VGA resolution eyepieces, which was strapped to a custom mount on his glasses. The Sony UX380N outputs via a TV dongle, and there's an extended battery and various Bluetooth peripherals—mouse, folding Bluetooth keyboard, etc.—for different types of text and cursor control while on the move.
To help you get started on your own AR adventure, check out Wikitude, a mobile augmented reality software which was developed by the Austrian developer company Wikitude GmbH (formerly Mobilizy GmbH) and published in October 2008 as freeware. It displays information about the users' surroundings in a mobile camera view. Wikitude was the first public available application that used a location-based approach to Augmented Reality.
Suppose we all wore (or had implanted) AR systems? What if besides seeing things that weren't there, we could see things that we might miss and could be critically important to us? Things like if the person you're talking to is telling the truth? A Cambridge researcher has built a decoder for facial cues that deciphers what a person is feeling and transmits that meaning to the person wearing the AR device.

AR going mainstream soon

Speculation runs the usual gamut of blind men feeling the elephant. It's been reported (in the Washington Post) that "Google employees familiar with the project" confirmed the glasses would be available to the public for around $250 to $600 dollars by the end of 2012. However, Wired says Project Glass "is very far from public beta," and that an end-of-year product launch is "extremely unlikely."
The market for AR glasses will build slowly but ride the curve of smartphones, tablets, and "other" devices (like specialized maintenance and medical devices). Holding up a tablet, in lieu of wearing glasses, will make a lot more sense to most people. Having the smaller screen phone in your pocket while wearing glasses will be a logical and potentially compelling application for AR. We created a financial model on the growth of the augmented reality consumer market, available to our clients; we see prices dropping to mass market acceptance by 2016. No question AR will start going mainstream this year. It is the killer app of this decade.
Dr. Jon Peddie is CEO of Jon Peddie Research, publisher of GraphicSpeak and Jon Peddie's TechWatch, where this article originally appeared.