The Mumbai, India PLM software and services company closed the year with revenue higher than guidance.



PLM software and services vendor Geometric Ltd. (NSE: GEOMETRIC) saw its annual revenue, as expressed in US Dollars, rise 22% year-over-year for fiscal year 2012. The company's fourth-quarter revenue was up 18.7% year-over-year.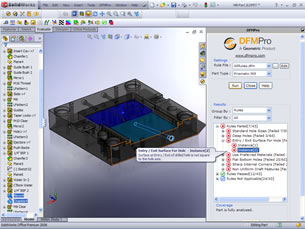 Because of the wide swings in currency trading between the Indian Rupee and the US Dollar, Geometric reports results separately for the two currencies. In Rupees, the results look even better, with fiscal year 2012 results up 30%.
For fiscal year 2012, which ended March 31, 2012, US Dollar revenue was $167.5 million, up from $136.5 million in FY 2011. For the fourth quarter, US Dollar revenue was up 18.7% to $44.92 million.
Geometric specializes in large PLM implementations and in being a second source of programming talent for other PLM vendors. During fiscal year 2012 Geometric added 24 new customers, for a total of 109 active customers. Major wins during the year include:
A multi-million dollar deal to develop a next generation design and analysis application for a ship classification services company in North America
Plant digitization and a Dassault Systèmes Enovia upgrade for an Asian automotive OEM
A plant simulation project for a global energy company in APAC
Customization of an enterprise Teamcenter PLM system for a leading European auto maker
An application support engagement with world's leading earth-moving equipment company for managing their process planning applications
An off-shore finite element analysis (FEA) engagement for a global mining equipment manufacturer
Application management and support for a European auto OEM for their PLM landscape
A Windchill implementation and PLM migration program for a leading aerospace Tier 1 supplier
During the year Geometric also launched its new multi-platform 3D visualization tool, Glovius, which runs on Windows and is available as an app for iPad/iPhone and Android systems, opened its twelfth development center in Toulouse, France, and initiated a strategic partnership with PLM interoperability vendor Prostep AG.
Geometric now has over 4,500 employees, including subsidiaries.