Enlighten 3 with Forge provide lighting tools for an artist's perspective.
Geomerics says its update to Enlighten provides cinematic-quality dynamic lighting with a toolset appealing to the artist.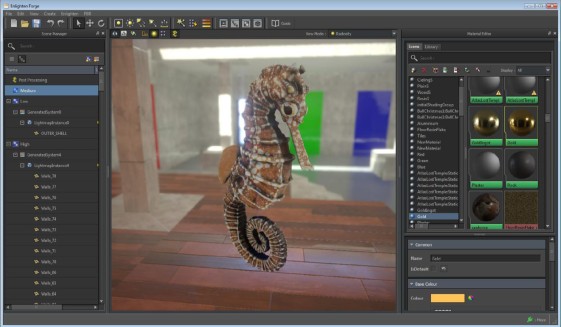 "We see lighting as the biggest contributor to cinematic quality graphics," says Chris Porthouse, VP of gaming middleware for ARM, which owns Geomerics. "Great artists use lighting to convey emotion and tell stories. It is no different with games. How light interacts with materials is essential."
New features include more accurate indirect lighting; color separated directional output; improved light map baking; and richer material properties. The addition of Forge, a new lighting editor with full support for physically based shading, allows artists greater control over creating dynamic real-time lighting for their games.
Geomerics says the Forge editor is designed from an artist's perspective, with a straightforward user interface and an intuitive look and feel. Forge also provides a customizable foundation for integrating Enlighten into any development pipeline, with import functionality from Autodesk 3ds Max and Maya, and a modular design. The current evaluation version of Forge also integrates YEBIS 3 Post Processing from Silicon Studio to allow visualization of final-quality rendering within the Forge tool.
Enlighten is also available as the lighting technology in Unity 5, and is available fully integrated into Unreal Engine 3 and 4.