eDrawings for iPad works with eDrawings, DraftSight, and SolidWorks files and models. Email is used for connecting with the iPad, not a cloud account.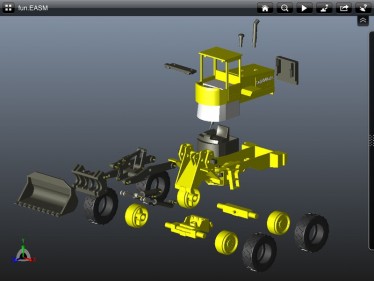 Dassault Systèmes SolidWorks today releases eDrawings for iPad, an app to view and review drawings and models. It works with native eDrawings files, DraftSight files, and SolidWorks parts, assemblies, and drawing files. It also supports drawings in the DWG and DXF formats popularized by AutoCAD. A video of eDrawings for iPad in use is embedded at the end of this article.
The app is $1.99 and now on sale in iTunes. It requires an iPad running iOS 4.3 or later.
The app uses iPad multi-touch gestures to pan, zoom, and rotate both 2D and 3D models. It uses email or iTunes File Sharing to upload and download files; similar apps from other vendors connect the iPad to a dedicated cloud account. eDrawings for iPad also supports configurations, drawing sheets, and exploded views for eDrawings files published from SolidWorks and all other supported CAD software.
Other features:
Animate 3D standard views as well as 2D drawing views.
Browse assembly components tree, configurations and drawing sheets
View designs in full screen and double tap for fit-to-screen
Store files on the iPad through iTunes Files Sharing
Sample files included.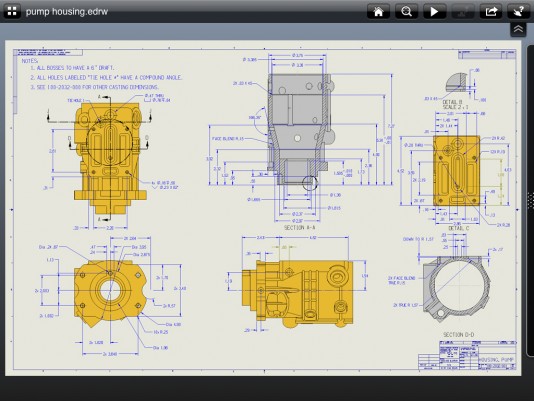 One more entrant in the mobile sweepstakes
They may be late to the game, but it won't hurt SolidWorks. The user community has been eager, but for the most part willing to wait. SolidWorks partners with contractor Geometric Ltd. of Mumbai on various eDrawings formats, but the work of developing this app for iPad was done by the core SolidWorks team in Waltham, Mass. According to comments flying back and forth at the official SolidWorks blog, there are currently no plans to make this an Android app.
The use of email and iTunes File Sharing for moving files in and out of the iPad needs to be a short-term solution. It is likely a dedicated cloud for SolidWorks collaboration on iPad will have to wait until the V6-based SolidWorks comes to market, possibly in 2013.