The Ematic eGlide Prism sells for $157.16. Will there be any takers?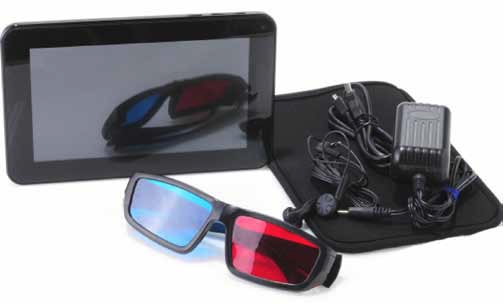 The eGlide Prism, claims Roy Rayn, general manager of Ematic, is packed with technology designed for an improved user experience in a slim size. The eGlide Prism runs on the Android 4.0 Operating System (also known as "Ice Cream Sandwich") for multitasking; web browsing is done with what Ematic is calling a refined interface.
However, the downside of the Ematic eGlide Prism tablet is that it does not support the official Android Google Play store. The device has a 7-inch capacitive touchscreen display at 800×480 resolution; Ematic says its HD video player supports up to 2160p 3D HD videos.
There is a built-in 3-axis gyroscope combined with an accelerometer, making the eGlide Prism capable of motion sensing in a game (such as user acceleration and 3D altitude and rotation). The tablet has a 1 GHz ARM Cortex A8 with 512 MB DDR3 RAM, and there's 8 GB of built-in flash memory as well as a micro SD slot.
The Prism is 9-mm thick and weighs 0.6 pounds, making it one of the lightest units on the market. It has built-in WiFi, a front-facing camera, built-in speaker, and anaglyph (red-blue) 3D glasses. The Prism is available online at ShopNBC. At this writing it is on sale for $157.16 (regularly priced at $216.00).
The small tablet market is getting crowded
There have been a few low-cost 7-inch tablets coming into the market lately. The Ematic unit is similar to the Micromax Funbook Tablet. That tablet does support the Google Play Store but only has 4 GB of built-in flash and no 3D and seems to be for sale only in China.
The low-cost 7-inch tablet market is being pursued by dozens of suppliers hoping to get in on the Indian and Chinese educational markets, but the target price for those units is sub-$75. Many China-based white-box vendors showcased 7-inch tablet PC models at shipment prices of $65 to $80 and 10.1-inch models at $100 to $110 at the 2012 Hong Kong Electronics Fair (Spring Edition) that took place April 13-16. These white-box vendors include Dream Technology, Aocos, PCTX, HKC, Onn, and Onda. These tablet PC models are equipped with chipset solutions mostly developed by China-based Allwinner Technology, and they include Android 4.0, Wi-Fi modules, 4 GB built-in memory, 800×480 or 1,024×600 16:9 touch screens, and plastic casings. Stepping up a bit, China is also making 9.7-inch tablet PCs equipped with IPS touchscreens and metal casings priced at $130 to $140. Add 3.5G modules and the shipment prices increase by $45 on average, according to white-box vendors. According to information coming from the white-box vendors, they are shipping 3 million tablet PCs a month.