Correspondent Tom Lansford describes the top features of Creo 3 from the recent PTC Live Global event in Boston. 
PTC Creo 3.0 is a major release for the parametric design experts from Boston. Presenting "Unite Technology"; which implements PTC's promise for AnyData compatibiilty in multi-CAD environments.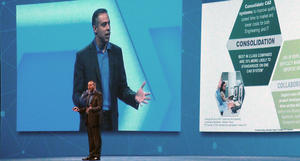 Brian Thompson took the stage in Boston to deliver live all the highlights of the new PTC Creo 3.0 version of 3D design software.  The features include major areas such as:
consolidation and collaboration in multi-CAD environments
concept design development with a rich set of integrated tools
flexible modeling
productivity improvements across the Creo 3.0 Apps
First, the Unite Technology brings data compatibility with multiple different CAD vendor applications.  This includes importing, opening, and saving models from CAD applications such as CATIA, SolidWorks, and Siemens NX.  What is it that makes Unite Technology so useful and unique?
The article continues at CADplace.