Better access under the hood; new support for Modo and Rhino.
Fabric Engine is a pipeline development tool developed by Autodesk refugees led by Paul Doyle, who was with Autodesk's Softimage, a 3D modeling and animation tool with strong customization features. Autodesk, like the other content creation companies serving the large entertainment creation houses, is called on to do considerable R&D for its customers, and, ironically, all this work isn't necessarily appreciated. The studios prefer to create their own tools in private—it's an IP edge. What they needed were better tools to create tools.  This thinking is at the core of Fabric Engine, which was founded in 2010 in Montreal.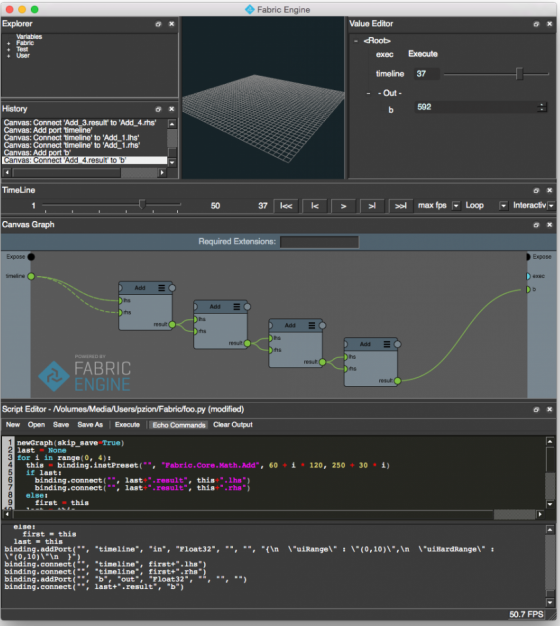 True to Fabric Engine's roots, most of their customers work at the movie studios and effects houses. Fabric holds regular state-of-the-art briefings at Siggraph. Fabric Engine is based on a Canvas visual programming system and has primarily relied on C++ and first supported Softimage and Maya.
The company has now added Python, which is heavily used in the content creation industry. CEO Doyle says that technical directors had been asking for an option that fits with the tools they already use. They've asked, "Why don't you let us use Python?" Now they can.
Fabric has been making new friends. It has added integration with The Foundry's Modo, and also supports McNeel's Rhino.
What do we think?
Fabric Engine is one geeky company. They build high-level development tools for people who need to build their own tools, but don't have time for full-scale programming. That's why Python was invented in the first place.
This is a pretty rarified business. We've talked about the limited amount of money that can be made in content creation tools because there are only so many people in the world who have the expertise and talent to do these jobs. Talent isn't scalable. Fabric Engine seeks to extend the power of those few people with accessible programming tools. This is a small company, but they're heroes to their customers.
What is Fabric Engine 2? from Fabric Engine on Vimeo.