Anark Core MBEWeb is designed to create HTML-compliant Model Based Enterprise documents using Adobe Reader.



3D CAD visualization specialist Anark has teamed up with PLM developer Geometric Ltd. to create a new 3D model based enterprise (MBE) authoring and viewing program designed to integrate into existing PLM environments. Anark Core MBEWeb is a HTML publishing addition to Anark Core software which allows users to transform native 3D CAD parts and assemblies, with attributes, dimensions and tolerances, and other model based definition information, into high-resolution 3D HTML MBE documents viewed using Adobe Reader.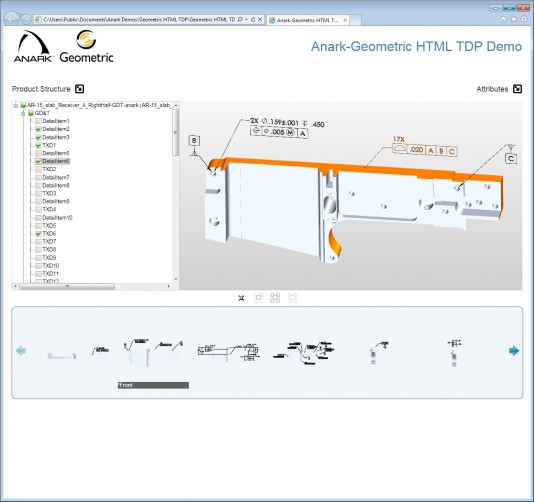 The goal is to create accessible views of product data for use by non-engineering team members. By utilizing open standard HTML calls and leveraging Geometric's Glovius viewing solution, models converted by Anark Core MBEWeb can be deployed as needed.
"3D Model Based Enterprise" is a term coined by the U.S. Department of Defense and adopted by many commercial manufacturing companies to define:
The reuse of 3D Model Based Definition data (e.g. 3D Dimensions and Tolerances and other Product Manufacturing Information)
The elimination of costly and redundant 2D drawings and 2D technical data packages
An affordable 3D MBE deployment method based on open and readily available standards.
Anark Core MBEWeb can also convert native JT parts and assemblies with MBD (popular in the automotive industry) into high quality and interactive 3D HTML MBE documents. The converted files may be viewed in an HTML5-compliant browser. Users can also connect, transform, and associate PLM and other non-CAD manufacturing attributes into a single 'fit-for-purpose' interactive and animated 3D manufacturing process documents like 3D Animated Work Instructions, 3D Inspection documents, and 3D Request for Quotes.