Sky DLX7 runs desktop-class CPU and GPU in mobile footprint.
If bigger is better, Eurocom should win a prize at this week's CES for introducing the Sky DLX7, the company's second "Desktop Laptop."  The Eurocom Sky DLX7 runs desktop-class CPUs and GPUs, supports 4K display to a 17.1" monitor, and can be stuffed with up to 5 terabytes of storage and 64 gigabytes of memory.
Eurocom uses the Intel Z170 chipset with socket LGA 1151, allowing it to support Intel Skylake processors up to Core i7-6700K. There is also an MXM slot allowing support for Nvidia GeForce GTX 980 desktop graphics. The DLX7 initially ships with an Ultra High Definition (UHD) monitor; a 4k display option will be available soon. The computer already supports external 4K displays.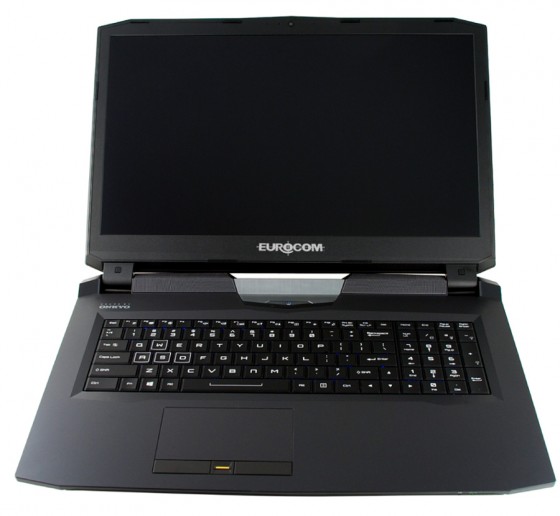 The Intel Core i7-6700K has 4 cores and 8 threads running at 4GHz, with turbo boost up to 4.2 GHz. The Intel Core i7-6700K is overclockable for maximum performance. Five Terabytes of storage is possible through four storage drives for a wide variety of upgrade options. Two 9.5 mm HDD or SSD bays and two M.2 SSD PCIe x4 SATA drives are supported with RAID 0/1/5/10 availability.
Eurocom Sky DLX7 is built to support the horsepower in the specs, with high speed fans and high capacity copper heatsinks to keep both graphics and processing within operating temperature range.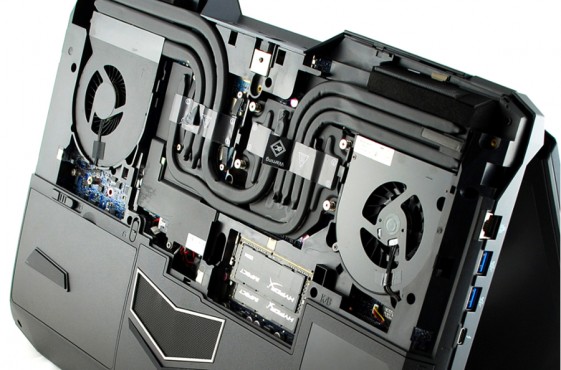 The EUROCOM Sky DLX7 is equipped with a plethora of connectivity ports including: USB 3.1, MiniDP 1.2, HDMI 2, USB 3.0. Allowing the Sky DLX7 to be integrated seamlessly into any environment.
"In a mobile 17.3" package, the Eurocom Sky DLX7 allows users to carry desktop class performance with them anywhere on earth. Being fully upgradeable and customizable allows users to pick what components and technology they want inside the DLX7 powerhouse Desktop Laptop," crows Mark Bialic, Eurocom President.
Full specifications and options:
Display: 4K UHD 3840-by-2160 pixels; 17.3-inch (43.94mm); LCD Display; eDP
Chipset: Intel Z170 Express (Skylake)
Processor: socketed desktop LGA1151 CPU, up to Intel i7-6700K, fully unlocked
Memory: up to 64GB; DDR4-2133, 2400 or 2666; 4 SODIMM sockets
VGA Technology: Nvidia GeForce: GTX 980M, 970M MXM 3.0b (83mm x 105mm) or single GTX 980 desktop (83mm x 115mm); Quadro: M3000M, M5000M, K5100M, K3100M MXM 3.0b; PhysX; one MXM 3.0 slot
Display Technology: supports 4 external monitors via 2x DP 1.2, 1x HDMI 2.0 and 1x HDMI 2.0 or DP1.2 (via USB 3.1 type C port); Nvidia Surround View
Storage: up to 5TB with 4 drives; 2x HDD/SSD (SATA3) + 2x M.2 PCIe Gen3 x4/SATA3; RAID 0/1/5/10; supports NVMe SSDs
Communications: 1Gb LAN RJ-45 port Killer E2400 + M.2 WLAN/Bluetooth
Operating Systems: Microsoft Windows: 10, 8.1 and 7
Card Reader: 6-in-1 MMC/RSMMC/SD/miniSD/SDHC/SDXC up to UHS-II
Keyboard: Illuminated, backlit with customizable 7-colors
Security: TPM 2.0, Fingerprint and Kensington Lock
Audio System: Sound Blaster X-Fi MB5; external 7.1CH audio output; headphone out, microphone in, S/PDIF and Line-in port; two built-in Onkyo Speakers (2.2W)+ Subwoofer (2.5W)
Ports: 1x USB 3.1 type C (HDMI 2.0/DP 1.2/Thunderbolt 3); 2x miniDP 1.2; 1x HDMI 2.0; 3x USB 3.0; 1x eSATA / USB 3.0 (1x Powered USB, AC/DC); S/PDIF; Headphone; Mic; Line-in; RJ45 (LAN)
Weight and dimensions: 3.9kg / 8.58lb; WxDxH 418 x 295 x 39.9mm / 16.72 x 11.81 x 1.6-inch
What do we think?
My shoulders hurt just looking at the Sky DLX7, all 8.5 pounds of it. But when you need that much power in a portable package, you take two aspirin and call your client to say the job will be done on time.