Microsoft is working with Autodesk and Trimble to develop applications for mixed reality.
By Jon Peddie and Kathleen Maher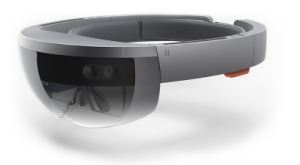 When Microsoft introduced Hololens at the beginning of 2015, it was generally agreed that the blue giant had a good idea, and like many of Microsoft's big ideas, it might well be many years before the company nurtured its idea along to the point that it would become a reality.
The Hololens, as you know, represents Microsoft's big bet on augmented reality. The Hololens lets users combine 2D and 3D content with the world as they see it through their Hololens. Demos from Microsoft suggest applications for work and at home. With the addition of animation and video, companies exploring this technology often opt for the term mixed reality.
Now, at the beginning of 2016, Microsoft's Hololens is on its way. Microsoft has announced plans to ship developer kits in the first quarter to developers in the U.S. and Canada. The kits will be available to successful applicants for $3,000 per device with a limit of two devices per application. The company says they're looking for creative developers to "help us build an active, dynamic community."
Microsoft seems to be well along in its plans to make Hololens a reality. The company is opening a showcase at its New York store to demonstrate Hololens to potential developers in real-world settings. The first demonstrations will include applications for games, sales, and design. The company has several early applications and case studies with companies like Autodesk, Trimble, and Jet Propulsion Labs.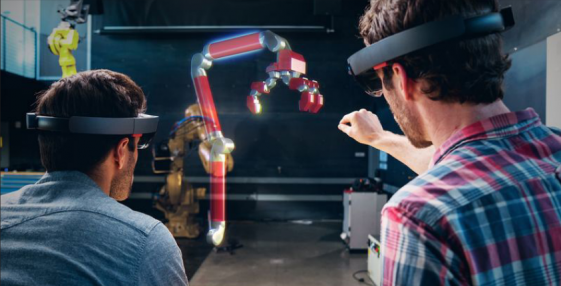 The Hololens studio won't be initially open to the general public, but developers can make an appointment. Microsoft's Hololens site offers several opportunities for people to become involved. They can sign up for an insider's mail list, join the Hololens Community, and even apply to buy a Hololens development kit for $3,000. Currently, Microsoft is running a competition on its Community site. People are being asked to submit their ideas for Hololens apps, and if they're creatively challenged, to at least vote on the submissions by November 11. Microsoft will build the winning suggestions and release the source code as open source.
So far, there is no word of an SDK or a ship date for consumer versions.
Autodesk and Microsoft team up for walkaround design and visualization
Autodesk's Garin Gardiner says the Fusion 360 team immediately saw the value of Hololens as a tool for 3D engineering and industrial design, and they started working with Microsoft on the FreeForm Project early on.
The idea is that the Hololens can let people view designs with a true sense of their size and how they occupy space. After trying it out, Gardiner says he immediately felt the confines of a 2D screen. What they learned, says Gardiner, is that mixed reality can change the way people work with their data.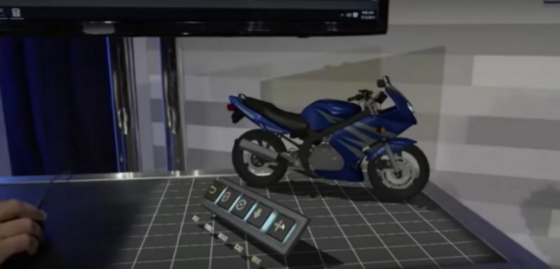 The Hololens has the capability of being something like a portable CAVE. People can use the Hololens to view the same model and walk around it as seen in the early Microsoft Hololens. In the app they're working on, users can edit designs collaboratively using Hololens. Autodesk and Microsoft have also demonstrated Maya running in the Hololens, and they've shown Hololens being used to edit as well.
Trimble adding Hololens support to apps
Trimble has been testing the Hololens as a support tool for the AEC industry. Last spring, the company announced its plans to collaborate with Microsoft to develop applications on the Windows 10 holographic platform, "which can improve the quality, collaboration, and efficiency in the design, construction, and operation of buildings." Trimble's application was featured at Microsoft's Build Conference held in San Francisco when Hololens was introduced.
In a video showcase of Trimble's work with Hololens, Trimble's Doug Brent, VP Technology Innovation, talks about the ways in which AEC design and build work lends itself to mixed reality like Hololens. He notes that "literally hundreds of enterprises can be represented on a job site." He notes that today all the people involved in a project usually struggle to communicate with paper documents, which most people have trouble visualizing in 3D. However, even when people may access digital models via devices like tablets, iPhones, and computers, they're not necessarily collaborating. Trimble is seeing Hololens as a tool to broad collaboration. People wearing Hololens can better share what they're seeing, and Microsoft's partners are also adding editing tools.
Connecting Trimble
In 2014, Trimble acquired Gehry Technologies, which had developed collaboration software called GTeam. It has been developed as a visual and data collaboration hub for AEC, and it is technology that dovetails nicely with Hololens and the idea of mixed reality. Trimble Connect enables users to see 3D data and documentation and 2D data, all in context. In this it is another example of model-based design (MBD), which has inspired a major transition in CAD over the last five years. What is happening is that, increasingly, the model is at the center of the design and all information is stored, accessed, and understood in the context of the model. The CAD companies are all working their way to supporting MBD, and it requires interchangeability of content.
In addition to Trimble Connect, the company's SketchUp and V10 Imaging Rover camera system, which captures geo-spatially oriented 360-degree panoramas, will support Hololens. The company promises continued integration with Trimble's tools and with design tools.
What do we think?
Microsoft is concentrating on Hololens as an industrial tool. The augmented reality business has sorted itself out over the last 6 years or so, and the market is industrial applications. Consumers will get to interact with it down the road … literally down the road … in automobiles and in personal devices like the Skully Motorcycle helmet. We'll get our turn with the technology soon enough—as soon as someone can figure out how to make a compelling game with the technology. In the meantime, Hololens has the potential to democratize the visualization business that has been getting along with approaches like CAVEs and power walls.