Sales are up despite the threat of cannibalism from tablets. Color is on its way.
Despite all the buzz about tablets—and the increasing dominance of the Apple iPad in particular—the e-book market continues to grow. A recent review of the e-book market in Jon Peddie Research's TechWatch newsletter uncovered some surprising trends.
"Many market research organizations estimate that the global e-book reader shipment will be at least double that of the previous year, and we have to agree with them," says Dr. Scott Liu, CEO of E Ink Holdings. "E Ink's capacity expansion plan and the customers orders are both on schedule."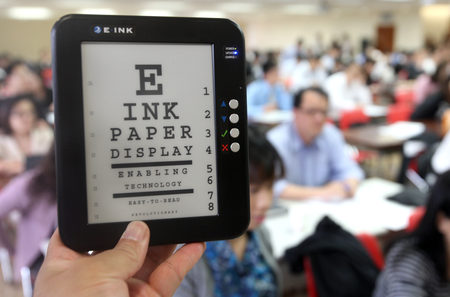 The common wisdom seems to be that tablets, and maybe smartphones, will kill e-book readers like the Amazon Kindle. As is often the case, the herd is wrong. Yes people are reading books on tablets and smartphones, but an emissive display tires one's eyes just as staring at computer screen all day does. E Ink's display technology, an EPD (electronic paper display) e-book reader uses reflected ambient light and offers sunlight readability, low power consumption, and they are lightweight, which differentiates e-book readers from the tablet computer in terms of market positioning and functionality.
And yes tablets are the hot item now, but IDC just reported that tablet shipments into the sales channels fell by 28% quarter to quarter to 7.2 million units. And since ARM-based tablets entered the market in 2010, the e-book reader market has grown 200% compared to the previous year. Jon Peddie Research estimates EPD shipments will continue to grow sequentially this year.
"Most people use tablet computers for multimedia content and games rather than reading," says Dr. Liu. Maybe, but of course he'd say that. When it comes to reading digital content, most people will look for a device that is more convenient than physical books but which provides the same paper-like reading experience. The big advantage of an e-book reader is its comfort (small and light, about the size of a thin paperback) and affordability; an e-book reader can be bought for as low as $100 (although the 7-inch tablets out of China are approaching that price point).
E Ink Holdings (8069.TT) reported sales in June 2011 of NT$1.84 billion ($64 million) and consolidated sales of NT$2.38 billion ($83 million), up 73% and 40% year-over-year respectively. Its year-to-date consolidated sales was NT$17.01 billion ($590 million), up 67% compared to the previous year.
While the second quarter is traditionally the low season for the electronics industry, the global e-book reader market has grown significantly from the same period last year, with E Ink's EPD shipments inline with the forecast for the second quarter and on track for the remainder of the year.
Today's e-book reader may be lightweight, easy-to-read, touch-sensitive, and use little power, but consumers want more—they want color.
Color
E Ink has put a color filter over its paper-like black and white display and created a product they call Triton. It was picked up by China-based e-reader supplier Hanvon, and a color E Ink e-reader was due to ship, in China, in May of this year. But the colors are dull compared with the vivid screen of a Tablet; Hanvon is now saying it will ship in September.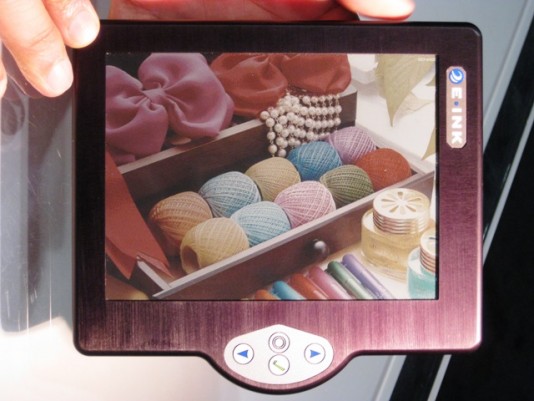 "The vibrancy of the colors isn't what people are looking for," said Dan Leibu, chief technology officer of Kobo, a Toronto-based e-reader maker. Still, Leibu said there will be a market for color e-readers when the technology improves because "people want color." A mass-produced color screen that's cheap enough and good enough could eventually replace most black-and-white ones, he said.
E Ink screens work by reflecting light off capsules with black-and-white particles. Adding color filters over them reduces the light going into the display. However, Sriram Peruvemba, E Ink's vice president of marketing, told us the company is working on solutions to improve the vibrancy of color screens.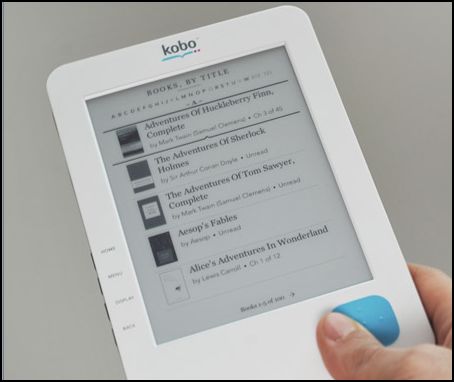 One approach, said Peruvemba, involves making the displays thinner so the filters are closer to the capsules, so less light is lost. Another involves putting front-lighting on the screens, which would improve the color quality but hurt the battery life of color screens.
Another benefit of an E Ink display Peruvemba pointed out is when there is a touch screen, the E Ink display is more accurate. Because the display of the E Ink is closer to the touch screen the parallax problem is greatly reduced so when a user tries to touch a button or a letter they will actually hit it and not something next to or above it.
E Ink's Triton color screens have one major advantage over current LCD screens: They are easier to see in direct sunlight. Compared side-to-side on a bright afternoon, said Peruvemba, a color display from an E Ink screen was much clearer than the glossy, glare-filled display of an iPad.
E Ink better hurry. Qualcomm also has a solution, and has developed a vivid, low-power color display for e-readers called Mirasol. It uses millions of tiny mirrors to reflect light. However, the screen also has been delayed. "We will ship a Mirasol display in an e-reader by the year's end," said Cheryl Goodman, senior director, marketing Qualcomm MEMS Technologies.